Einen wunderschönen Mittwochmorgen, meine Lieben da draußen.
Ich hoffe es geht euch allen gut und ihr genießt eine schöne Zeit.
Bei uns hier macht der Sommer gerade eine kurze Pause
und das ist mir eigentlich ganz recht.
Good Morning my dear readers and friends.
I hope you are enjoying a wonderful time.
Here in Upper Austria Summer is taking a short break
and I am really not sad about it.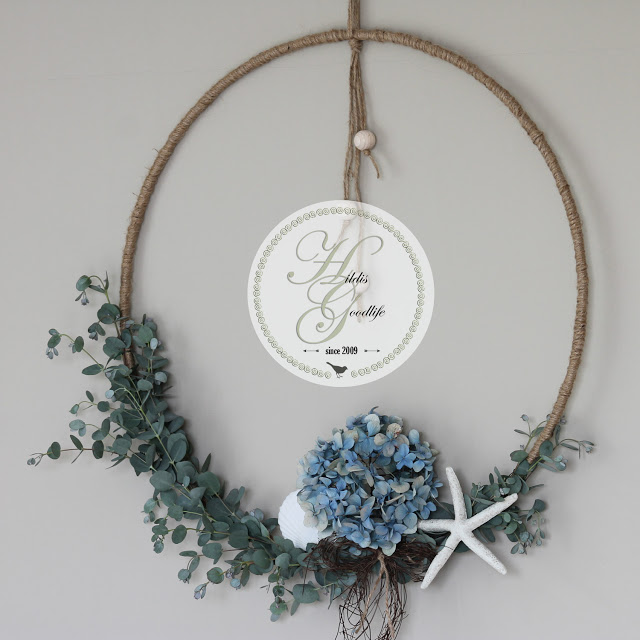 Everytime when the weather forces me to stay inside I enjoy to stroll through our house,
doing there a little decoration, making here some little changes and looking for
inspiration everywhere.
As it happened the other day!
I saw this big metall hoop in our basement, that I never used for anything up to now.
And in that moment I saw it hanging above my mantle as a maritime Summer wreath.
Versteht mich nicht falsch,
ich liebe es mich im Pool zu aalen,
oder es mir auf der Terrasse mit einem guten Buch oder einem Stapel inspirierender Magazine gemütlich zu machen.
Aber genauso gerne tigere ich bei Regenwetter durch's Haus,
gestalte da ein wenig um, dekoriere da ein bisschen
oder probiere die eine oder andere Idee aus.
Und am meisten mag ich es, wenn mir ganz spontan etwas einfällt,
ich mich sofort an die Umsetzung mache
und es dann auch noch gelingt.
Das ist mir kürzlich passiert.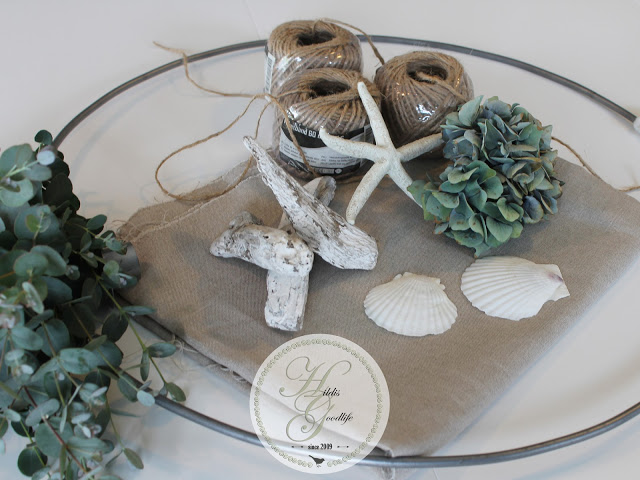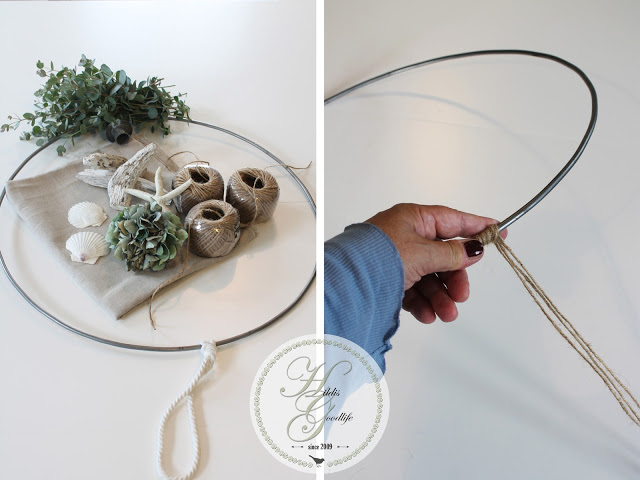 Ein großer (etwa 50 cm im Durchmesser) metallener Reifen war der Auslöser.
Ich sah ihn da hängen, im Keller, noch ganz unberührt.
Könnte der nicht heuer über meinem Kaminsims hängen?
Gedacht, mitgenommen und ausprobiert.
I took the hoop, collected all kind of material that I thought I could use for the DIY
and started immediately with it.
First I wrapped butchers twine all around to cover the whole hoop.
Than I added some twine at what I wanted to be the top of my wreath as a hanger.
The ends of the hanger inspired me to put on some wooden beads, that could
hang down to the middle of the hoop.
An then I just decorated the wreath as it came up to me.
Zuerst hab ich alles mögliche Material zusammen getragen, von dem ich dachte,
ich könnte es für den Kranz, der mir vorschwebte gebrauchen.
Dann habe ich den Metallreifen mit Paketschnur umwickelt.
Ich habe dafür gleich drei Schnüre auf einmal verwendet, so ging es schneller
und das Ganze wirkte ein wenig natürlicher und unregelmäßiger.
Danach hab ich einfach drauf los dekoriert.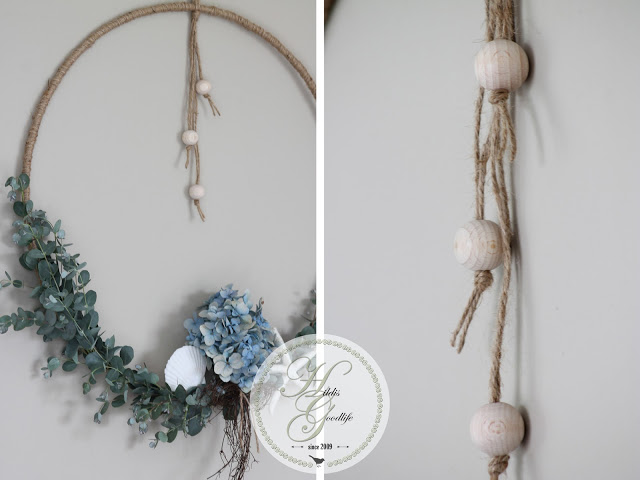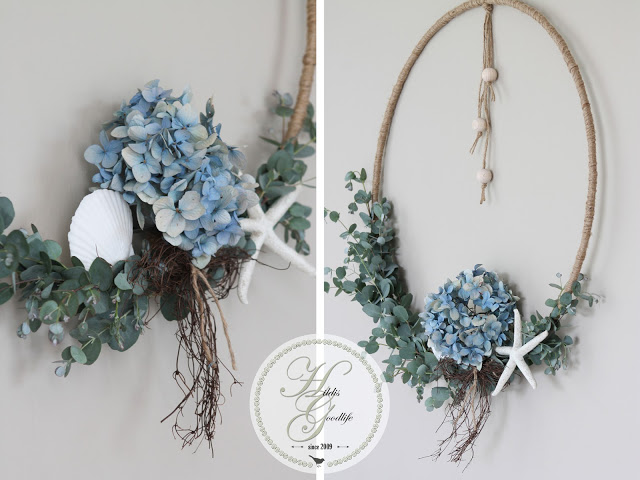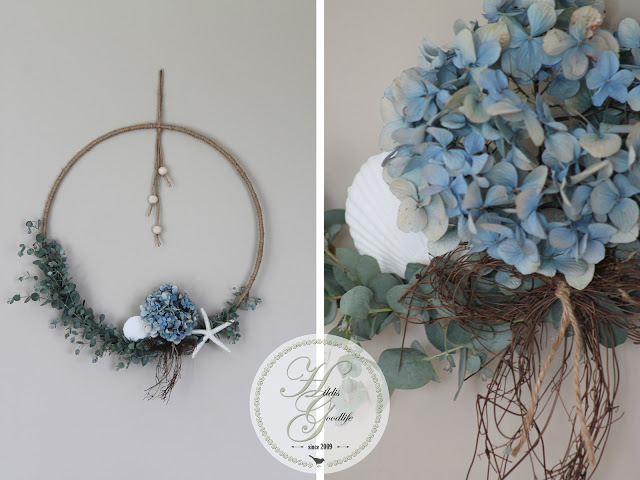 Some eucalyptus on the base,
wooden vine as a tie, a shell and a starfish
and to top it all: a dried flower of a hydrangea.
Done!
Die Aufhängung habe ich zuerst angebracht.
Die herab hängenden Enden der Äufhängung haben mich dann auf die Idee gebracht,
Holzperlen an den Enden zu befestigen.
Den unteren Teil des Kranzes habe ich (asymetrisch) mit Eukalyptus umwunden
und danach eine Muschel, eine "Schleife" aus dünnen Weinreben,
eine getrocknete Hortensienblüte und einen Seestern angebracht.
Fertig war der maritime Kranz.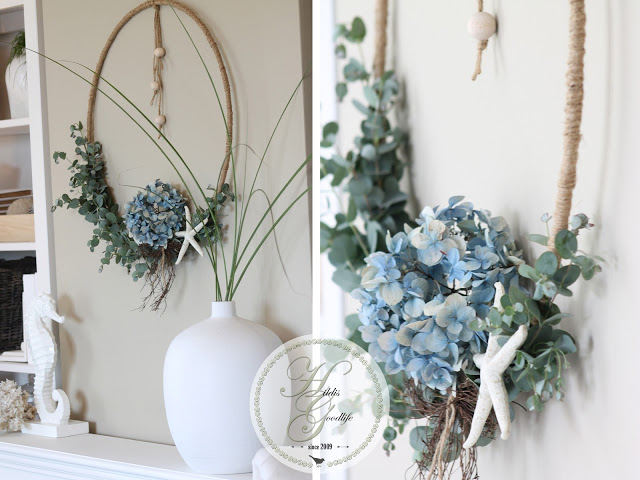 Und er passt ganz wunderbar!
Heute kann es meinetwegen ruhig wieder sonnig werden
und wenn nicht, dann gehe ich einfach mal wieder eine Runde durch's Haus.
Die Inspiration wohnt schließlich überall …
And doesn't it look pretty?
I really love how this quick and easy maritime wreath – DIY turned out.
That is what I love. Finding inspiration wherever I go and try it ….
Well, I really would appreciate if there would be sunny weather today,
but if not …. I am going to stroll through my house and see what I'll find …
Have a wonderful Wednesday, my dear friends out there
and enjoy every inspiration that is crossing your way.
I for one will enjoy my last holidays and will soon be back with pictures of the rest
of my living room – all decorated for Summer!
Thank you for stopping by and being out there, my dear friends.
Hugs
Hilda
Euch meine Lieben, wünsche ich einen wunderschönen Tag heute.
Haltet die Augen offen und lasst euch von den Dingen inspirieren, die euch einfach so umgeben.
Ich genieße noch ein paar Tage Urlaub …
… und komme bald wieder mit Fotos von der restlichen sommerlichen Dekoration in meinem Wohnzimmer.
Alles Liebe für euch
und bis bald
Hilda