Einen wunderschönen guten Morgen, ihr Lieben da draußen.
Und? Seid ihr alle gut in den März gekommen?
Habt ihr die ersten warmen Sonnenstrahlen genossen,
und euch den Frühling ins Haus geholt?
Good morning and a wonderful day, my dear friends!
Isn't it wonderful, that it is March now and Spring is in every part of nature around?
I hope you all had a wonderful first week in early Spring.
Most of you certainly have brought the first signs of Spring into your decoration, right?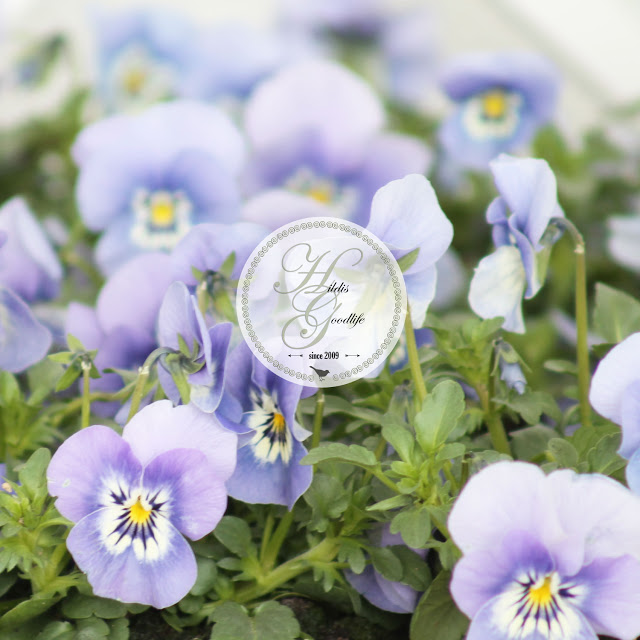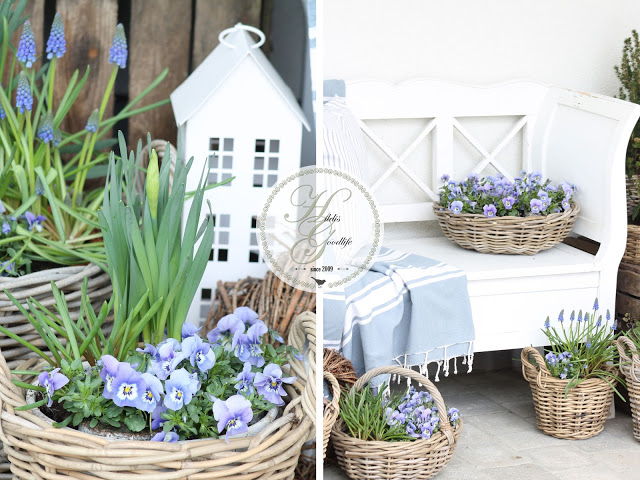 For our house I have filled my baskets with blue muscaris and violas
and displayed them on our front porch.
Über unser Haus ist des Frühlings blaues Band hinweg geflattert und hat unsere Körbe üppig gefüllt.
Und wie könnte es auch eine andere Farbe sein,
um anzufangen in Frühlingsfarben zu schwelgen,
war doch die erste Blüte, die ich im Vorbeigehen in der Wiese gesehen habe,
ein kleiner blauer Ehrenpreis (oder Günsel, oder Gundermann …)
Hornveilchen und Traubenhyazinthen eignen sich außerdem hervorragend
als erster Frühlingsblumenschmuck. Sie lassen nicht gleich alles hängen, nur wenn es
mal noch ein wenig kälter wird …. und rauer.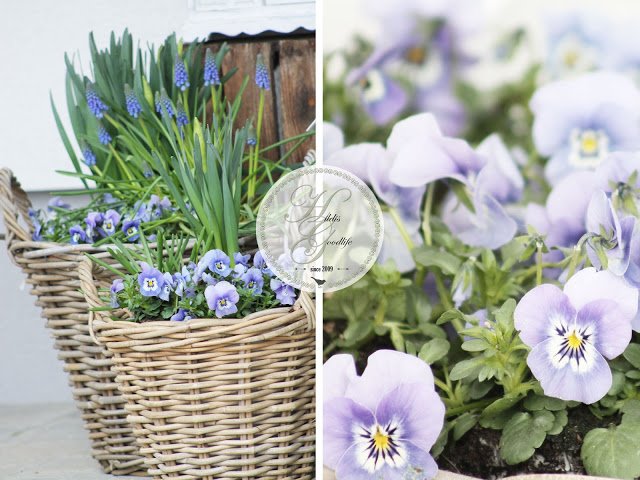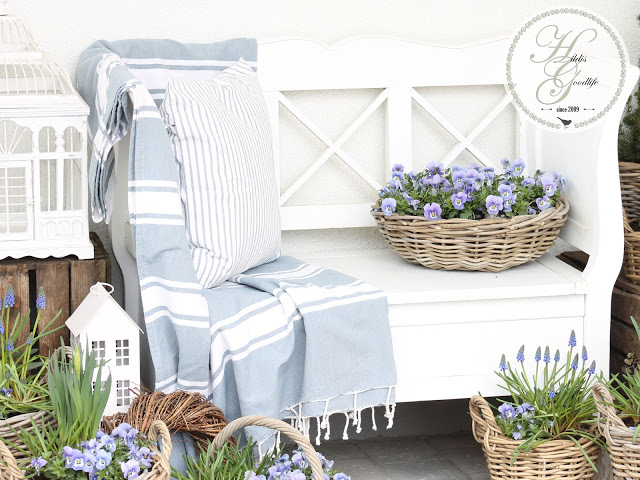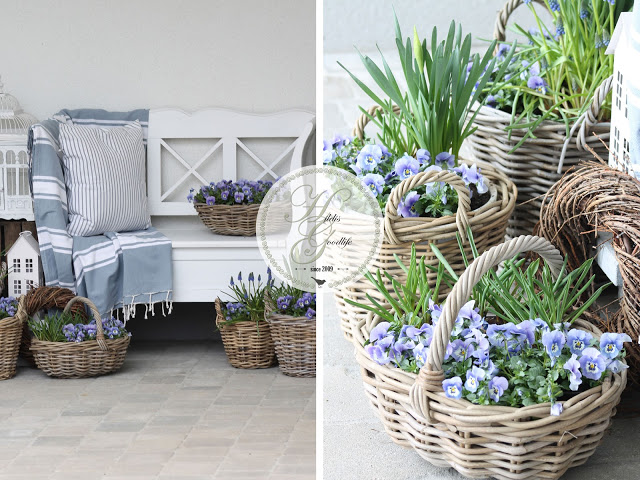 Fresh green and blue is such a wonderful color combination
to break up the longlasting winterwhites
and to kick off the young season.
It's Spring, indeed.
I feel it, hear it, smell it everywhere.
The soft colors, the twittering of the birds, the smell of the fresh soil
make me feel happy and joyful.
And enthusiastic.
And open for changes.
Der Frühling, ja, er ist's, ganz eindeutig.
Ich spüre, fühle, rieche und höre ihn überall.
Die Zeit des immer Gleichen ist nun vorbei.
Die frischen Farben, das jauchzende Vogelgezwitscher, der erdige Duft,
sie stimmen mich fröhlich.
Und veränderungswillig.
Und tatendurstig.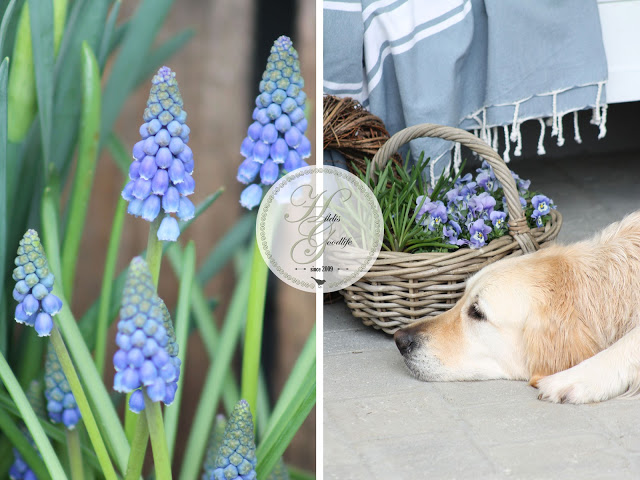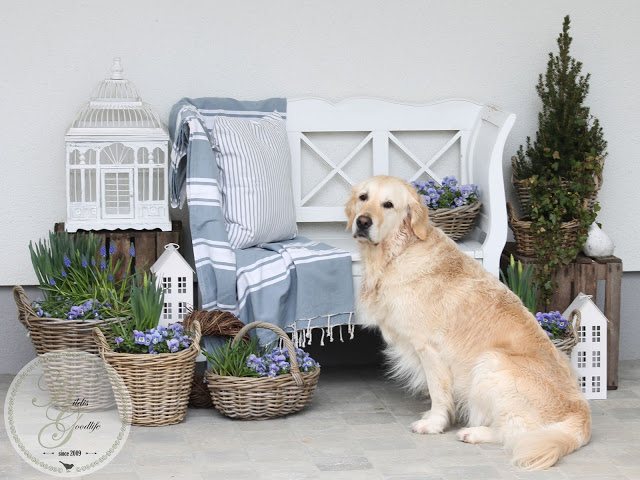 Der Wunsch nach Veränderung, gepaart mit dem Tatendrang,
hat mich endlich dazu veranlasst,
meinen Blog ein wenig umzugestalten.
Nachdem mein Bloglayout acht Jahre lang nahezu unverändert blieb,
war es endlich Zeit für eine kleine Auffrischung, findet ihr nicht auch?
Ganz abgeschlossen sind die Änderungen noch nicht,
also habt noch ein wenig Geduld ….
All these has caused me to change the look of my blog a little bit.
After eight years with nearly the same look, I think it was time for a freshup.
And I hope you like my new layout.
I am quite content how it turned out, although I hope that it won't stay
the same again for eight years.
Mal sehen, ob sich dieses Bloglayout nun wieder acht Jahre lang hält – ich hoffe aber nicht.
Aber im Moment bin ich ganz zufrieden mit dem Resultat.
Apropos 8 Jahre:
Ich danke euch von Herzen für eure Glückwünsche zu meinem Blog-Geburtstag.
Eure Kommentare haben mich erfreut und auch amüsiert.
Auch ich freue mich schon auf viele weitere Jahre mit euch,
also nicht, dass sich eine(r) von euch irgendwie einfällen lässt, sich davon zu machen …
Habt eine wunderschöne restliche Frühlingswoche (auch wenn das Wetter grad ein wenig rumzickt)
und lasst es euch gut gehen.
Alles Liebe und bis bald
Hilda
By the way: Thank you so much, my dear friends, for your wonderful wishes
to my blogoversary. I enjoyed all your comments so much.
And I am looking forward to many years of blogging together with all of you too.
Have a wonderful rest of the week with hopefully warm temperatures
and many many sunny hours.
Hugs
Hilda