Schreck lass nach,
nun liegt auch der Oktober schon fast wieder hinter uns!
BOO, my dear friends and Happy Halloween!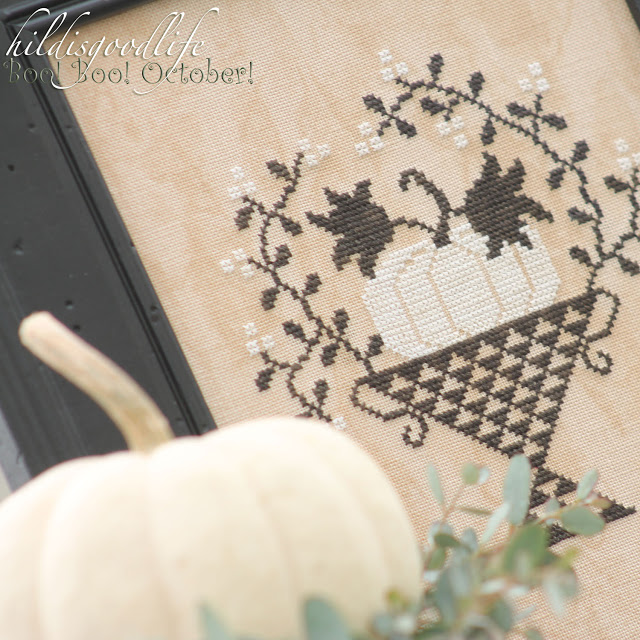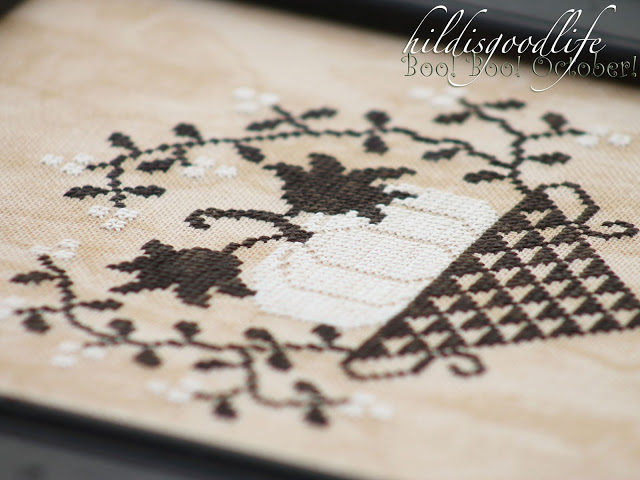 Isn't it unbelievable that also October has gone by already
and we are heading over to the end of this year?
The darker part of Autumn has started now.
The foliage will start to fall down soon
and the last signs of Autumn will disappear.
Die dunkle Zeit ist angebrochen,
die Uhren sind auf Winter umgestellt
und die Natur folgt ihnen wie ein demütiger Diener.
Noch leuchten kräftige Herbstfarben von den Bäumen,
doch schon der nächste kräftige Windstoß kann dem ein jähes Ende setzen.
Kürzer und kürzer werden die Tage.
Der letzte weiße Kürbis erhellt noch die schon etwas fade gewordene Herbstdekoration,
aber bald schon verschwinden auch er.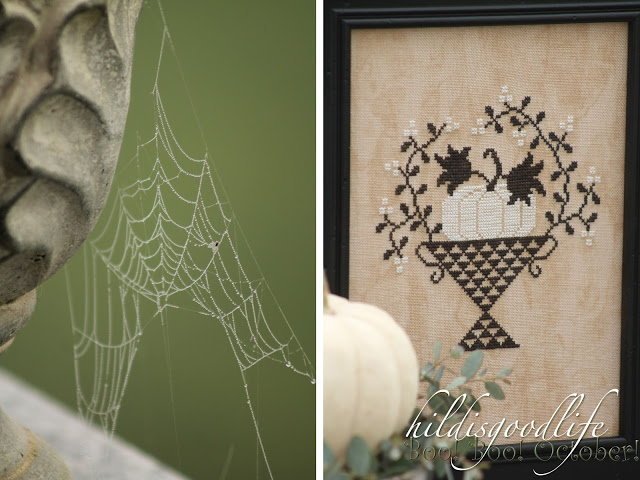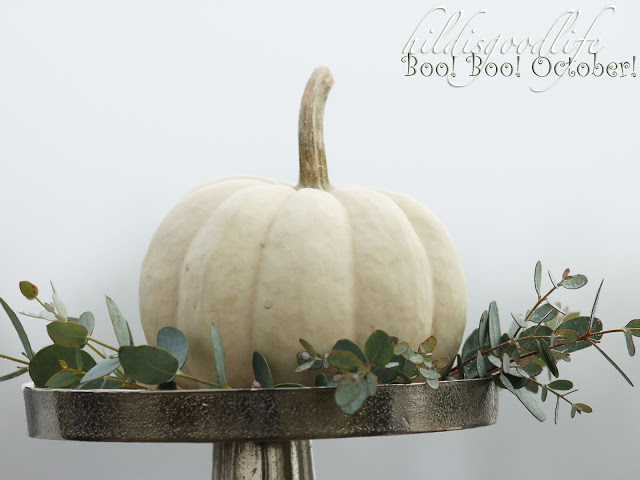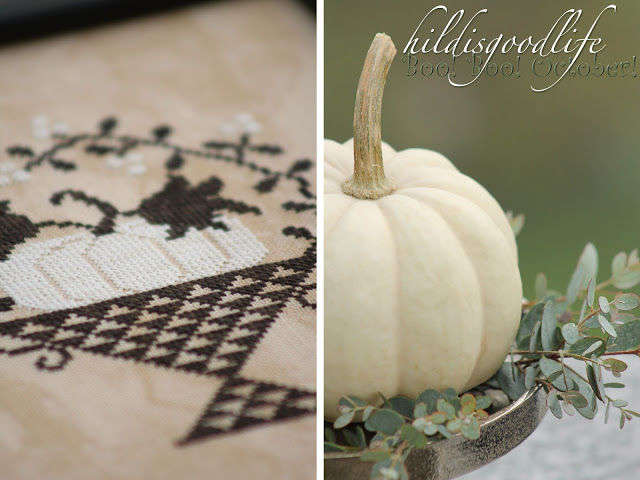 One last white pumpkin is trying to keep the glory of Autumn high,
but even this one will disappear soon.
Only its stitched reproduction will stay.
With the dark leaves and vine,
and its black frame
it is the perfect image for November.
And for today: Halloween.
Nur sein Abbild aus Garn, auf Leinen gebannt
darf noch ein Weilchen bleiben.
Mit den dunklen Blättern und Ranken und dem schwarzen Rahmen passt das Bild perfekt für den November.
Und für heute.
Halloween.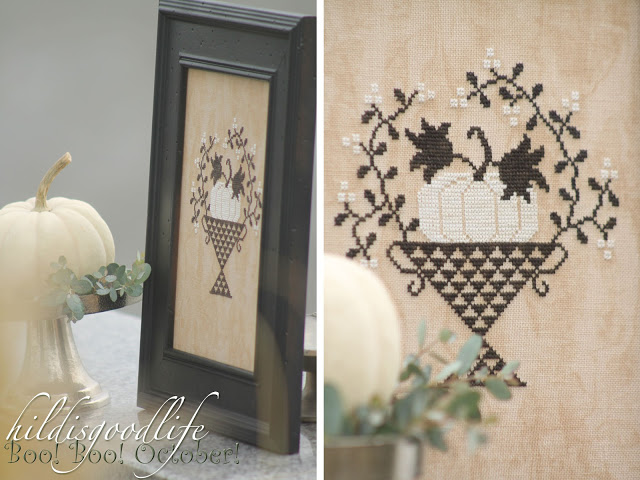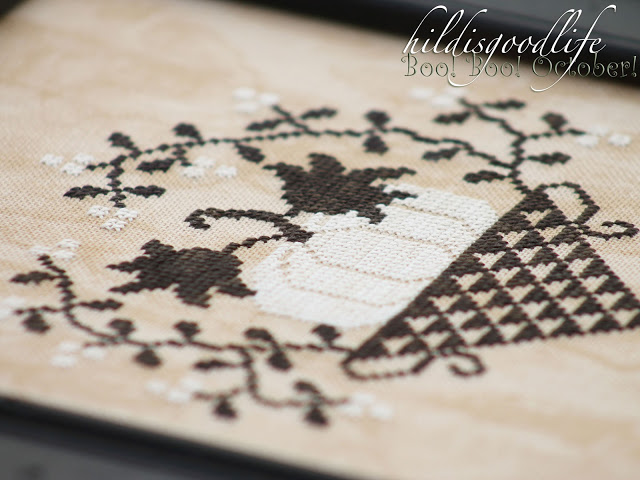 Für mich hat die kleine Stickerei noch eine weitere Bedeutung:
Es zeigt mir, wie sehr sich mein Leben derzeit verändert.
Ist es doch eines von nur zwei Stickwerken, die ich im heurigen Jahr begonnen UND fertig gestickt habe
(nur zum Vergleich: im Jahr 2015 waren es noch rund 40!)
For me, this stitched piece also have another meaning:
It shows to me how much my life is changing at the moment.
This piece is one of only TWO cross stitch finishings I made this year
(compared with last years finishings of about 40, it's a big change …)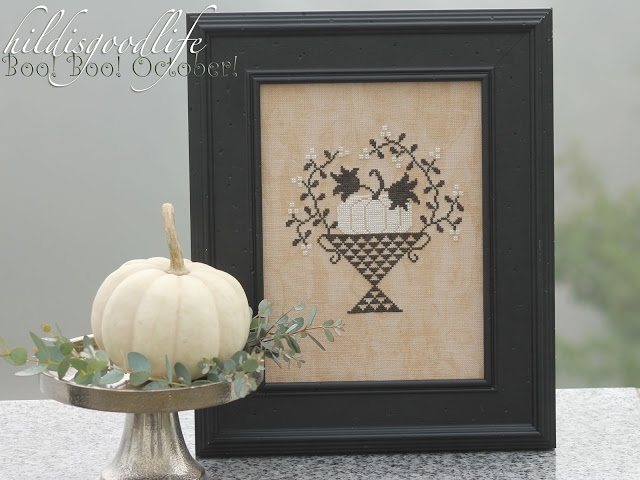 Vielleicht, so hoffe ich, wird die kommende Zeit das eine oder andere fertige Werk noch hervorbringen, doch viele werden es wohl heuer nicht mehr sein.
So ist es eben, das Leben, voller Veränderungen …
Maybe, there will be a few more in the last months this year, but it won't be really many.
Things are changing. Well. That's life, isn't it?
For goodness sake, there are still things that do not change.
My big pleasure about you visiting my blog and leaving me a comment, for instance.
Thank you all, my dear friends and readers, for that!
I hope, you all can win something good of all changes that happen in your lifes!
Have a wonderful November!
Happy Halloween to all of you!
BOO!
Hugs
Hilda
Meine lieben Freunde und Leser,
ich hoffe ihr könnt den Veränderungen immer auch Gutes abgewinnen,
den kleinen, wie den großen.
Unverändert wundervoll finde ich aber eure vielen Besuche hier auf meinem Blog
und eure – unverändert – lieben Kommentare. Vielen Dank dafür!
Wie gut, das manches sich nicht so schnell verändert.
Habt einen wunderbaren letzten Tag im Oktober,
mit viel Süßem und wenig Saurem!
Boo!
Bis bald
Hilda
Details to Stitching/Stickerei Detailangaben:
Design: "Harvest Blessing" by Rosa Sub
Linen: Zweigart Belfast Vintage Capuccino
Threads/Garne: WDW Grits + Onyx