Wenn etwas Tolles zum allerersten Mal passiert,
oder zum ersten Mal im Jahr wieder passiert,
dann finde ich das immer so aufregend!
Geht euch das auch so?
If something wonderful is happening for the very first time
or again happening for the first time in the year,
I am always totally excited about.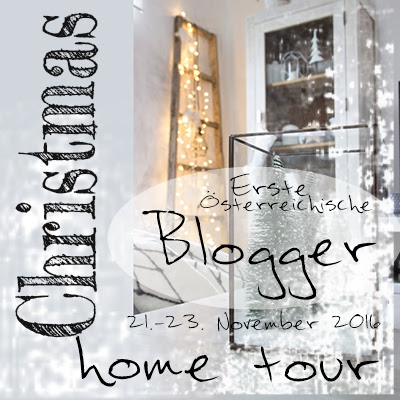 Das allererste Mal heuer gibt es eine österreichische Blogger-Weihnachts-Tour.
15 Bloggerinnen aus allen Teilen unseres kleinen Landes haben sich zusammengetan
und zeigen euch an drei Tagen ihre weihnachtlich geschmückten Domizile.
Unsere erste österreichische Blogger Christmas Home Tour startet am Montag, 21. November
hier auf meinem Blog.
Und von hier aus geht es dann weiter – durch insgesamt 15 Häuser, allesamt weihnachtlich geschmückt.
Die Teilnehmerinnen sind so verschieden, wie sie nur sein können.
Da ist bestimmt für jeden Geschmack etwas dabei.
Ich selber kenne ja die Haustouren noch nicht,
aber ich bin mir fast sicher, wir sehen etwas aus jedem nur denkbaren Stil und Geschmack:
Traditionell, Scandi, Boho, Farmhouse, Modern, Shabby, Vintage, Landhaus ….
Schaut also unbedingt vorbei!
One "very first time – thing" is totally exciting for me:
I teamed up with 14 other – very talented – Austrian bloggers
for our vewry first Austrian Christmas Home Tour.
Starting here on my blog on Monday, November 21, we will
tour through 15 Austrian houses, all decorated for Christmas.
I am sure there will be inspirational ideas for every taste and style:
traditional, nordic, boho, farmhouse, modern, shabby, vintage and country style!
Don't miss to stop by and tour our homes!
Ihr könnt euch also vorstellen,
dass es hier im hildisgoodlife-Haus schon ganz schön weihnachtlich zugeht.
Und dass wir dieses Wochenende den ersten Schnee des Jahres hatten,
war dabei eine große Hilfe.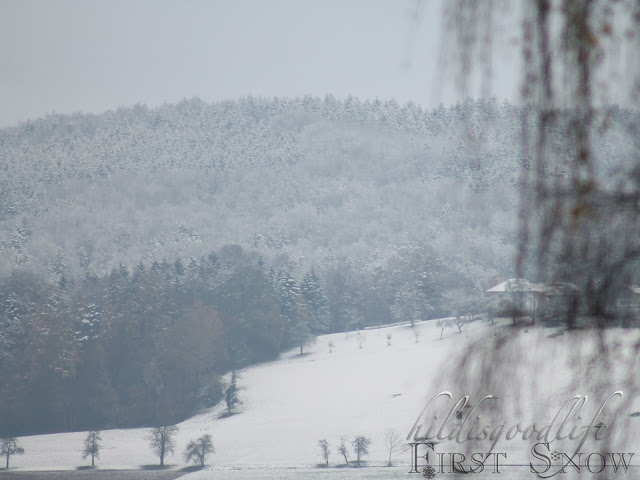 Der erste Schnee lockt mich immer nach draußen.
Ganz egal, wieviel hier im Haus zu tun ist, wenigstens eine halbe Stunde
wird einfach nur die weiße Pracht genossen.
Und danach – das hat schon fast Tradition – gibt es zu Hause
die erste Tasse heißen Kakao!
This is how I love this time of the year:
The first snow, that invites you to take a walk through a white and cold landscape.
And then, back home, the first cup of hot cocoa of the year!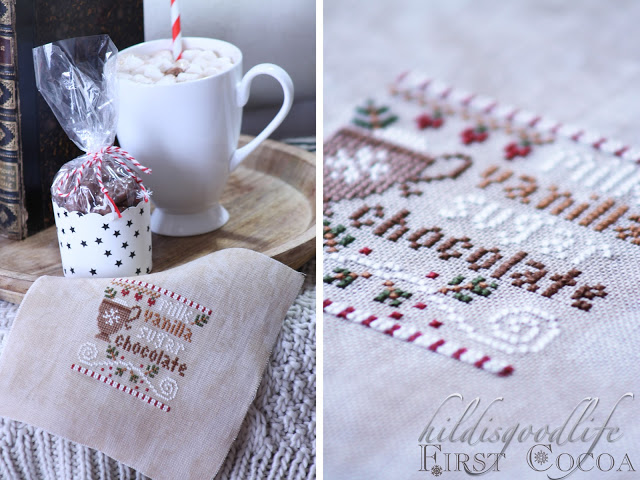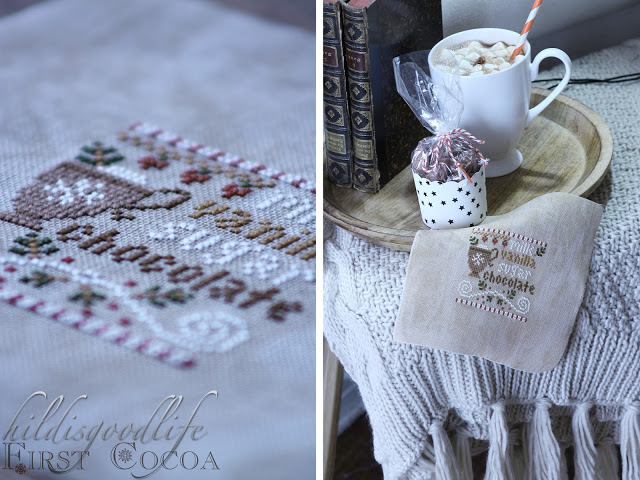 And if there is some rest of time to stitch the very first Christmas ornament of the year
it seems to be perfect!
Herrlich!
So lässt sich die kalte Jahreszeit wunderbar ertragen!
Und wenn dann auch noch ein wenig Zeit bleibt,
um die allererste weihnachtliche Stickerei anzufertigen,
dann kann mir das nur recht sein!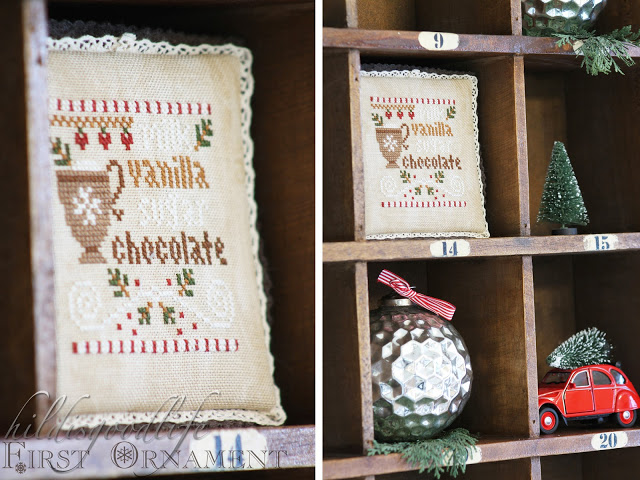 Ornament: "Hot Cocoa"; Design by Diane Willams – Little House Needleworks
Copyright 2012;
stitched on Vintage Belfast Linen "Capuccino" with suggested DMC-Threads
Ich hoffe, ich konnte euch ein wenig neugierig machen, auf das was da so kommt …
… ich freue mich, wenn ihr vorbei schaut: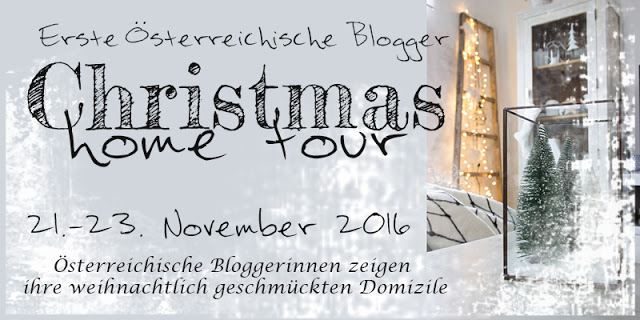 Bis bald/Hugs
Hilda