Es ist natürlich ganz schön anmaßend
ein Pool als Ozean zu bezeichnen.
Ein Loch in der Erde, das ein Bagger da rein gebuddelt hat,
das ein Maurer mit Beton befestigt
und ein Poolmonteur mit einer blauen Folie ausgelegt hat.
Some of you, my dear friends and readers
may call me presumptuous
because of calling my pool an ocean.
But in Summers like this …
Und dennoch …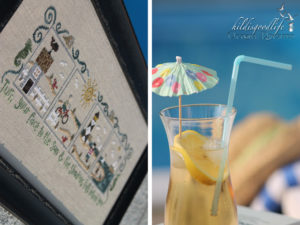 … in einem Sommer, wie heuer,
wenn man stundenlang da liegen kann und die Wasseroberfläche anstarren,
da kann man schon ein wenig der Realität entgleiten.
Da wird das Pool dann zu einer geschützten Bucht im türkisblauen Meer,
da wird das Rauschen des nahen Birkenwäldchens zur Meeresbrandung,
da wird die gespritzte Kräuterlimo im Glas zur klebrig leckeren Pina Colada
und die unaufhörlich hin und her fliegenden Ringeltauben werden zu Möwen.
In Summers like this,
one can sit hours after hours beside the pool and starring at the water
and lose the touch with reality a little.
The pool then becomes a sheltered bay.
The noise of the birch forest nearby sounds like the surf of the ocean.
And some back and forth flying doves seams like being the seagulls.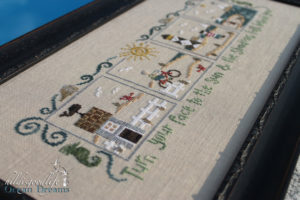 "Summer Snapperland"
Bent Creek
stitched on Belfast Linen Color "Mushroom"
with the suggested threads
stitched and finished in July 2015
Der Kopf wird dann so richtig leer und weit,
lässt aber auch nicht viel anders zu
als eben jene schönen Träumereien vom
Sommer
der Sonne
dem Meer
und dem Strand.
The mind gets open and wide then
and yet leaves no space for other thoughts than about
this Summer
this sun
this water
this bay.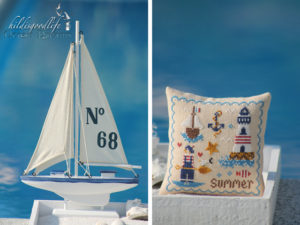 "Summer"
123 Citruoille by Rachida Collewette
for the French Magazine "Mains & Merveilles" N° 103
stitched on32 ct Belfast Linen, Color N° 233 Antique Ivory,
with DMC as charted – except: GAST Country Redwood for Red
and Autumn Gold
stitched in August 2014 and July 2015
finished in July 2015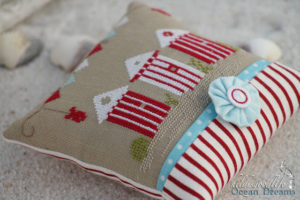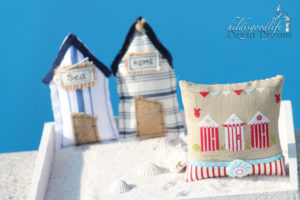 "Farniente"
only the Beach-Huts-Part of the design
from Jennifer Lentini – "Une Croix le Temps d'un Thé"
for the French Magazine "Mains & Merveilles" N° 107
stitched on 36 ct Edingburgh Linen – Summer Khaki
with DMC as charted
stitched and finished in July 2015
Das manifestiert sich natürlich mit der Zeit
und findet in dem was man tut seine Verwirklichung.
In meinem Falle haben sich all diese Träumereien
in meinen Stickerein nieder geschlagen.
Fast den ganzen Juli habe ich träumend,
sinnierend
und stickend
in meiner kleinen Bucht verbracht.
Of course that all beats down on the works –
on the stitched motifs, in my case.
It was a wonderful month of July
and I had many days off
and many days at the pool
doing all this:
dreaming
thinking
stitching!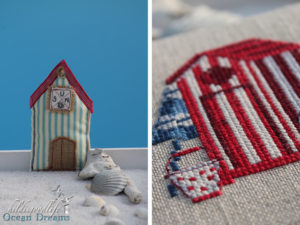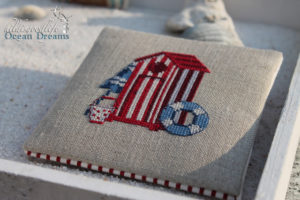 "Beach Hut"
Veronique Enginger
for the French Magazine "Creation Point de Croix" N° 40
stitched on natural Belfast Linen
with DMC as charted
stitched and finished in July 2015
Wie sich zeigte,
war ich nicht die Einzige,
die in Meeres-Träumereien schwelgte.
Auf meinen Touren durch eure Blogs konnte ich den einen oder anderen
maritimen Beitrag finden.
Unter anderem bei Ina (Freude am Sticken),
die mir – nach meiner Schwärmerei für ihre entzückenden Strandhütten-Stickereien
eine liebe Überraschung zukommen ließ,
ohne wahrscheinlich zu ahnen, dass sie damit meinem derzeitigen Wahnsinn
nur Vorschub leistete (danke Ina).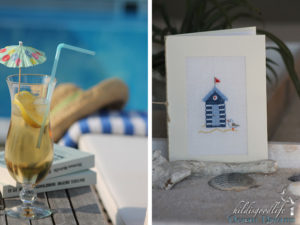 Meine lieben Freunde und Leser,
sollte dem einen oder anderen unter euch
der Sommer schon über sein
und mein nichtendenwollendes Strandgeflüster schon nerven,
dann muss ich denjenigen leider warnen:
Bitte schau dir nicht meinen nächsten Post an,
denn es ist noch nicht vorbei.
Auf alle anderen von euch freue ich mich jetzt schon …
My dear friends and readers
I hope you are not bored of Summer
(and my never ending blabla about it)
because – I am so sorry –
it is not over yet!
Hope you join me at my next post too
and I am so happy to have you here
and enjoy this wonderful Summer with you.
Allen von euch aber
wünsche ich einen wunderschönen Sommerabend
und vor allem:
geht hinaus
seht in den klaren Nachthimmel,
denn heute Nacht fallen Tausende Sterne hernieder!
Bis bald
Hilda
Verlinkt bei Niwibo