"The Deep Blue Sea,
the deep blue sea
There's a lot to see,
in the deep blue sea
The sailfish sail
and the blowfish blow
cockles & mussles alive-alive-o"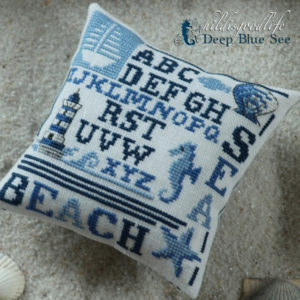 Die Hitzewelle ist gebrochen
und Regen fällt endlich auf die dürstende Natur.
Es ist Zeit, meine kleine
"Von der Sehnsucht nach dem Meer"- Serie
abzuschließen.
Und dies will ich hiermit tun,
mit einer tiefblauen Hommage an die tiefblaue See!
This summer's heat wave is over now
and rain has come to finally water the thirsting nature.
It is time to bring my Sea-themed blog series to an end.
And this is what I want to do with a deep blue hommage
to the deep blue sea.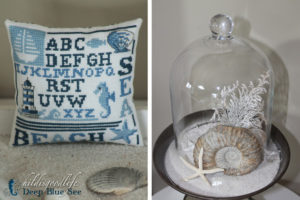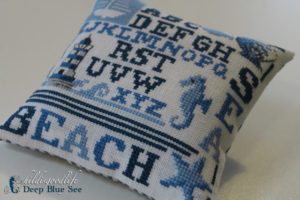 "Beach & Sea Sampler"
zusammengestellt aus diversen Vorlagen und Freebies
combined of various charts and freebies
stitched on white Belafast Linen
with DMC B5200, 311, 318, 415, 798, 809, 3799
"The hermit crab,
he lives alone
you can't even get him
on the telephone.
The halibut's eyes turn up and in
he don't know where he's going,
but he knows where he's been."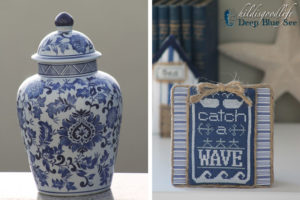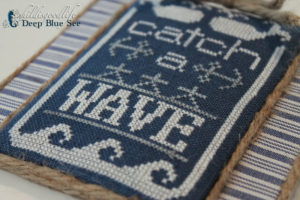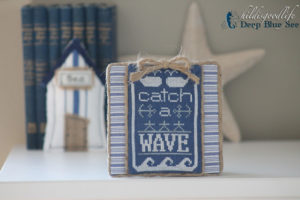 "Catch A Wave"
from "A Year in Chalk" June
2015 by Cathy Habermann – hans on Design
Stitched on Belfast Linen hand-dyed by me
With: GAST Chalk &Crystal Lake
Meine blaue Phase hat sich mit meinem maritimen Tick zusammengetan
und zu einer mächtigen Welle aufgetürmt.
Und ich hab sie eingefangen in kleinen blauen maritimen Stickereien
und Näherein.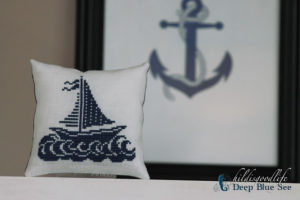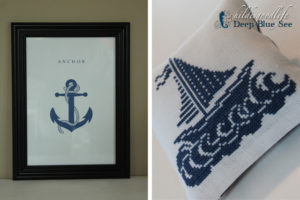 "Sailboat"
Freebie by Sue Hill's Design for Sullivans USA
stitched on Belfast Linen White
with DMC 311
"The deep blue sea,
the deep blue sea
there's a lot going on
in the deep blue sea!"
(Song from the film "The Glass Bottom Boat"; 1966
sung by the wonderful Doris Day)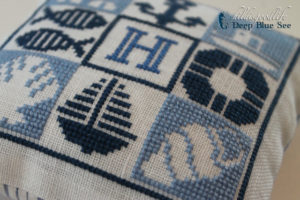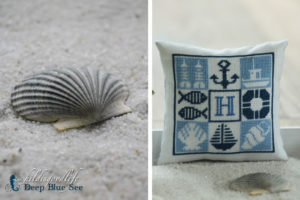 "Maritime Sampler"
zusammengestellt/combined of parts of
"Navy Blue Sampler" by DMC
(Freebie can be found on DMC Club USA)
stitched on white Edingburgh Linen
with DMC 311, 798, 809
Auf dieser Riesenwelle zu surfen
hat mir großen Spaß gemacht.
Das könnte meinetwegen noch wochenlang so weiter gehen,
doch – am besten hört man auf, wenn es am Schönsten ist.
I really enjoyed surfing on this wave of blue and maritim motifs
and could go on and on with it for weeks, I think.
But, better leave on a high note!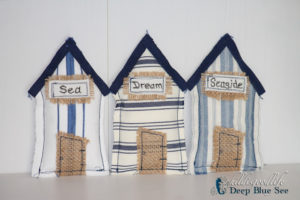 "Little Blue Beachhouse"
Idea found on Pinterest
and simply sewed …
Und darum,
meine lieben Freunde und Leser
möchte ich mich bei euch bedanken,
dass ihr mich auf meiner Ozeanfahrt begleitet habt,
dass ihr über drei lange Posts hinweg durchgehalten habt
und vor allem –
dass ihr mich mit so lieben Kommentaren bedacht habt.
Therefore,
thank you, my dear friends and readers
for joining me on my cruise
holding on over all that posts about the same theme
and – last but not least
leaving me such lovely comments.
Bis bald
Hilda
P.S.: Und für alle, die Doris Day mögen und gerne mal den happiesten Happy-Song
zum Thema Meer anhören möchten,
setze ich hier noch den Link zu Youtube:
And for all of you, who love Doris Day and want to listen to her singing this cheesy happy song
(together with Arthur Godfrey):
https://www.youtube.com/watch?v=XmK7p7xsEck
verlinkt bei Niwibo