An zehn von zwölf Monaten,
gilt die Farbe Orange in meinem Leben
als "Color-non-grata",
als Farbe, die in meinem Umfeld faktisch nicht geduldet wird.
Doch kaum tauchen die ersten Kürbisse an den Straßenrändern auf
legt sich in meinem Gehirn ein Schalter um …
At ten of twelve months
the color "orange" is branded as a "Color-non-grata"
in my live.
Not tolerated in anyway.
But – in September – when the first pumpkins appear
besides the streets and in the shops
something crazy happens in my brain …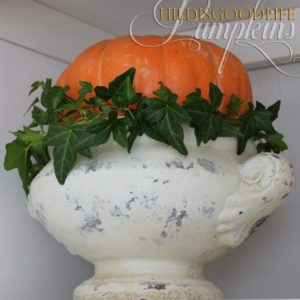 … und für kurze Zeit wird Orange zur Akzentfarbe Nummer Eins
in meinem Leben.
… "Orange" becomes the most beautiful accents-releasing-color in my mind
for a very short time.
Anfangs verteile ich die knalligen Farbkleckse noch ganz schüchtern.
Kombiniert mit viel Grün und Creme und etwas Purpur
hüllt es beispielsweise mein Wohnzimmer in eine warme schmeichelnde Atmosphäre.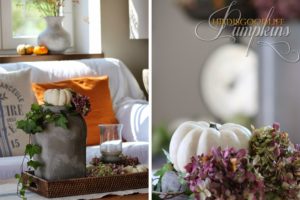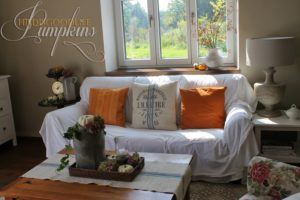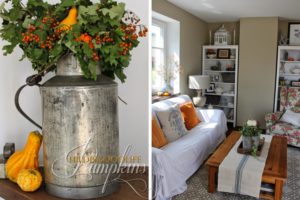 In Autumn I love it decorating my house and garden
with pumpkins – especially the orange ones.
Accompanied with much greens and creams
the rooms are getting in such a warm and cosy mood.
Only some weeks the "fire-ly" colors are increasing
in my home decoration
the longer Autumn lasts
until it all turns in wonderful deep red one day …
… when Christmas time is appearing.
Je weiter der Herbst voranschreitet
umso mehr Herbstfarben in Form von Beeren und bunten Blättern
finden bei mir Einzug
bis das warme herbstliche Farbspektrum schließlich
in einem rauschenden Crescendo an Feuertönen
direkt in Rot übergeht
und die Weihnachtszeit einleitet …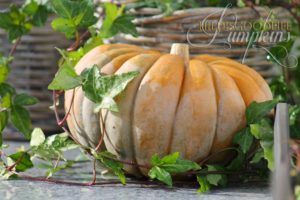 Natürlich verteile ich die warmen Herbstfarben auch in den anderen Räumen unseres Hauses
und auf den Terrassen.
Doch dazu später mehr …
My dear readers and friends
I hope you are having a wonderful "orange" September!
Have a sunny new week!
… für heute verabschiede ich mich in die neue Woche
und wünsche euch sonnige orange Septembertage!
Bis bald
Hilda