Was das Sticken betrifft,
laufe ich schön langsam wieder zur alten Form auf.
Drei Freebies und den Buchstaben H –
das ist das Pensum, das ich letzte Woche geschafft habe …
I had a wonderful productive week last week.
Three free designs and the letter H – that is the list of smalls I managed to stitch in one week.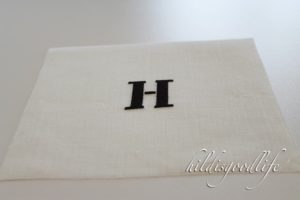 Das "H" lasse ich jetzt einfach mal so stehen.
Unfertig wie es ist – und einsam.
Denn es ist nur der Beginn eines neuen Projektes.
Die Verwirklichung einer Idee, die mir vor ein paar Tagen gekommen ist
und mit der ich sofort angefangen habe.
Das H war in wenigen Stunden gestickt.
Und es war das letzte von den vier Kleinigkeiten,
die ich seit dem letzen Post angefangen UND fertig gestickt habe.
The "H" is only part of a project that I started immediately when the idea of it came into my mind.
I will not tell you more about it at this point of stage …. there will come more soon.
WFI – Wait for it ;-)…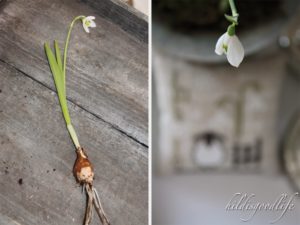 "Awakening"
Erwachen
Mit diesem entzückenden Freebie hat Isabella vor kurzem die Bloggerwelt erfreut.
Ich fand die Farbkombination und diese Einfachheit so wunderschön.
Perfekt für eines der ersten Stickwerke des erwachenden Frühlings.
Eigentlich wollte ich es ja zum 2. Februar schon fertig habe,
geschafft habe ich aber nur, dass ich es an diesem Tag angefangen habe zu sticken.
"Awaking" was the first spring themed freebie that I found in the web this year and it was designed by Isabella of The Primitive Hare. I love all of her designs!
And this one has such amazing colors that represent the early spring.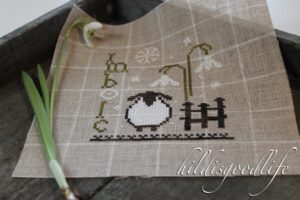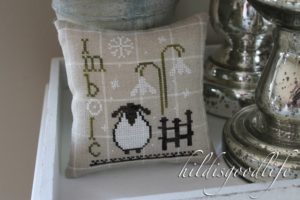 "Awaking" Free Design by "The Primitive Hare";
Linen: 30 ct natural Linen with white squares (Producer not known by me)
Threads: DMC White, WDW Swamp Water, WDW Moss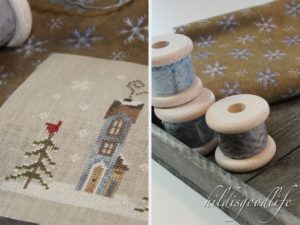 "Winter Blue House"
Obwohl ich dem Winter stickmäßig schon abschwören wollte,
hat mich kurzerhand ein weiteres ganz neues Freebie verführt:
Als Sylvie dieses entzückende Motiv online gestellt hat, war für mich klar:
Das MUSS sofort gestickt werden.
Seit Jahren bewundere ich Sylvies Gespür für die gedämpften ruhigen Farbtöne
in denen sie fast alle Charts diverser Designer stickt.
Nun hat sie ihr erstes eigenen Freebie designed – und es ist absolut gelungen.
Although I wanted to renounce stitching further winter themed designs
I was unceremoniously seduced to not meet this intent, when another wonderful new freebie
was placed on Auhasardesoiseaux.over-blog.com:
I am admiring Sylvie's sense for the quiet shades
in which she embroiders almost all of her projects.
Now she designed her first own freebie and I had to stitch it immediately.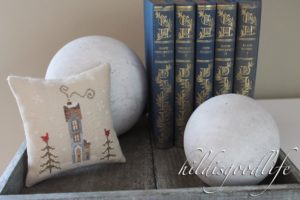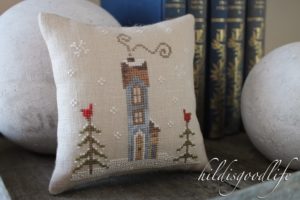 "Winter Blue House"
Free Design from auhasardesoiseaux.over-blog.com
Linen: Belfast Mushroom/Light Moccha
Threads: as charted but I changed DMC 646 to GAST Bankers Grey
and Old Red Paint to Country Redwood GAST
Beide dieser entzückenden Freebies hab ich absichtlich ganz ohne Schnörkel und Verzierungen zu kleinen Kissen genäht.
Ihre Einfachheit ist ihre Schönheit, finde ich.
* * *
Und das dritte Freebie?
Tja – das bleibt bis auf weiteres ein Geheimnis.
Denn ein weiteres – größeres Projekt geistert in meinem Kopf herum,
das mich – sofern ich durchhalte – das ganze Jahr beschäftigen wird.
Das ominöse dritte Freebie wird ein Teil dieses Projektes … und hoffentlich
irgendwann eine Überraschung.
And the third finished freebie?
Well, that is another new project I started
and that will accompany my the rest of the year (provided that I will keep on)
A surprising project – so ….
another "WFI" 😉
* * *
Ich wünsche euch allen eine wunderschöne neue Woche,
viel Sonnenschein
und viel Elan und Energie
für all die schönen Dinge, die wir alle so gerne machen.
Bis bald
eure
Hilda
Have a nice new week with many sunny hours
and enough time and energy
to realize many beautiful projects!
Hugs
Hilda