Die Zeit bleibt nicht stehen,
auch wenn ich mir gerade jetzt wünschte,
sie würde viel viel langsamer vergehen.
Während draußen ein typisch oberösterreichischer Winter (schneelos, kalt und meist nebelig)
meine übersiedelten Gartenpflanzen einem Härtetest unterzieht,
spielt sich mein Leben hauptsächlich drinnen ab.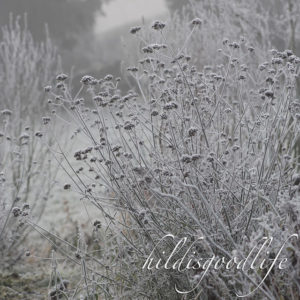 Im neuen Haus kann ich momentan Stunden, ja ganze Tage damit verbringen,
einzuräumen, wieder auszuräumen,
Möbel umzustellen und neu einzuräumen.
Alles soll praktisch, bequem und schön werden.
Und ich bin kein Mensch, der sich schnell zufrieden gibt.
Es macht mir nichts aus, wenn alles ein wenig länger dauert,
wichtig ist nur, dass ich dann mit dem Ergebnis auch wirklich zufrieden bin.
Time goes by much too fast for all my plans and targets and ideas for my new home.
Two rooms received the most of my attention during the last weeks:
My living room and my craft room.
I spent hours and hours on decorating, moving furnitures, organizing and reorganizing things.
Everything should be practically, pretty organized and good looking at the end
no matter how long it lasts ….
Not that I am hard to please, I just like things done my way, haha!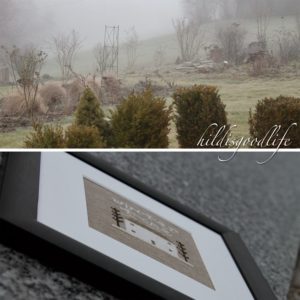 Und natürlich passt die erste Stickerei,
die ich nach so vielen handarbeitsfreien Monaten gemacht habe
genau in mein Wohnkonzept:
Weiß, natur, schwarz – ländlich.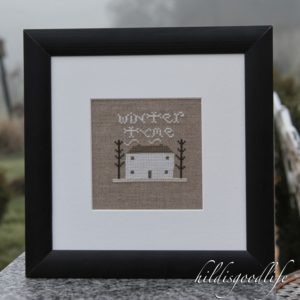 "Winter Tyme"a free by Nonforgotten Farm (found here) is the first
cross stitch project I finished after this long absence from crafting.
The sweet little design fits perfectly into the old wooden frame, that I had in my stash
since many years.
And the complete picture fits perfectly into my bookcase in my living room, with which
I am still not ready and still not content yet…
nor will the furnishing and decoration of my new craft room completely meet
with my expectations – so that I can not
show photographs of the two rooms now.
Das kleine Freebie von Nonforgotten Farm (zu finden HIER) kam genau recht!
Und der perfekte Holzrahmen samt Passepartout lagert schon seit ein paar Jahren
in meinem Rahmenvorrat. Es lebe meine vorausschauende Hamsterkauf-Manie!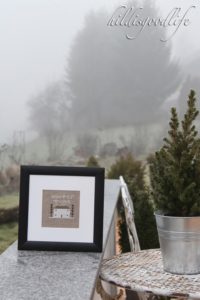 Das kleine Bild ist nun Teil meiner Wohnzimmerdekoration
und ziert eines meiner weißen Bücherregale.
Doch weil das Ganze noch nicht komplett
ist – und ich noch nicht wirklich zufrieden bin,
gibt es davon vorerst noch kein neues Foto.
Genausowenig, wie vom neuen Stickzimmer,
das schon ziemlich weit – aber leider auch immer noch nicht
zufriedenstellend und somit immer noch nicht fertig ist.
Well, my dear readers and friends,
rejoice on many photos of the rooms in my new house to come
Nevertheless I hope you will remain visiting my blog 😉
Thank you for all your wonderful comments and mails!
It was such a pleasure to me that so many of you still read my blog
although I have been absent that long!
Have a nice new week!
So gesehen,
meine lieben Bloggerfreunde und Leser,
liegen noch viele Fotos
von der Innenansicht meines neuen Domizils vor Euch.
Ich hoffe, dass ihr mir trotzdem treu bleibt 😉
Danke für eure wunderbaren Kommentare und eure lieben Mails
ich freue mich wirklich sehr, dass so viele von Euch meinen Blog
nach der langen Abwesenheit nicht vergessen haben.
Bis bald
Hugs
Eure
Hilda