Schenken macht glücklich,
vor allem, wenn man sooooo liebe
Worte und Zeilen zurückbekommt!
Mausimom und Dovilé
haben beide ihre Giveaways
meiner heurigen Blogovesary-Verlosung erhalten.
Und ihr Freude darüber
macht mir Freude!
Danke, euch beiden,
dass ihr so tolle Fotos von meinen Give-Aways
auf euren Blogs zeigt!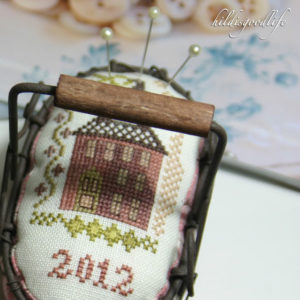 Finally
Mausimom and Dovilé
have both received the giveaways
of my last blogoversary!
And to read about how happy they are
makes me very happy!
Thank you for showing such wonderful fotos
of my give-away in your blogs!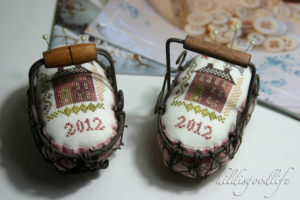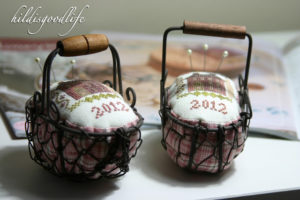 Ich hatte schon länger die Idee im Kopf,
dass es eigentlich entzückend aussehen müsste,
wenn man kleine Körbchen als Nadelkissen umfunktioniert.
Letzten Sommer fand ich dann diese entzückenden
Drahtkörbchen in einem meiner Lieblingsshops hier in Linz.
The idea for this pinbaskets was in my head since more than one year.
When I finally found this cute little baskets
in one of my favourite shops
I startet stitching and sewing suitable
pincushions.
Design: "A Stitcher's Journey" by Blackbird Designs
Diese beiden Körbchen sind bereits
N° 4 und N°5 ihrer Art.
Der Prototyp steht auf meinem Sticktischchen
und zwei weitere habe ich im letzten Jahr
als Geburstagsgeschenke an liebe Stickfreundinnen verschenkt.
Hugs & Kisses
to all my dear readers and blogger friends
Einen ganz lieben Gruß
euch allen,
liebe Blogfreunde
Hilda