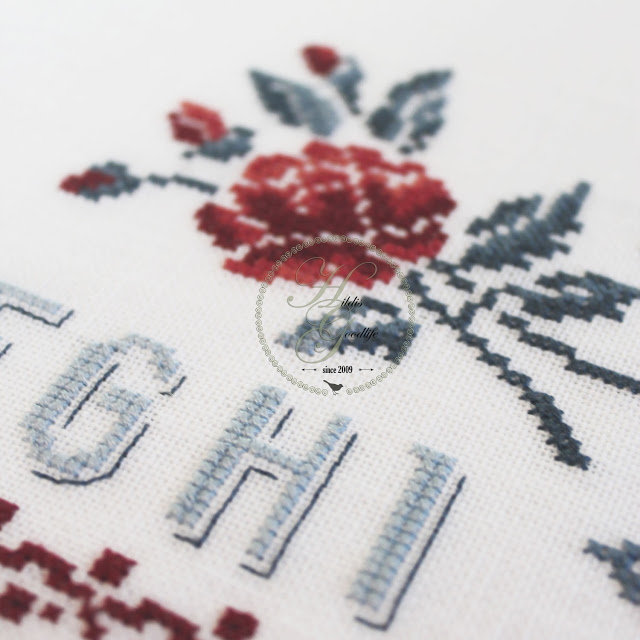 Da geht er dahin, der August!
Und mit ihm auch schon bald der Sommer!
So ist es wohl auch an der Zeit,
alle sommerlichen Projekte zu einem Abschluß zu bringen,
um sich Geist und Herz und Seele für den Herbst frei zu schaufeln.
Willkommen, meine Lieben da draußen, an diesem letzten Mittwoch im August,
zum (vorläufigen) Finale meiner Rosen-Serie!
The end of August is almost here
and together with it, the end of an amazing Summer!
It's time to bring all Summer projects to an end
to get ones mind and heart and soul free for everything Autumn!
Welcome, my dear friends on this last Wednesday in August
to the final post of my "Everything is so much better with roses"-series,
well for now …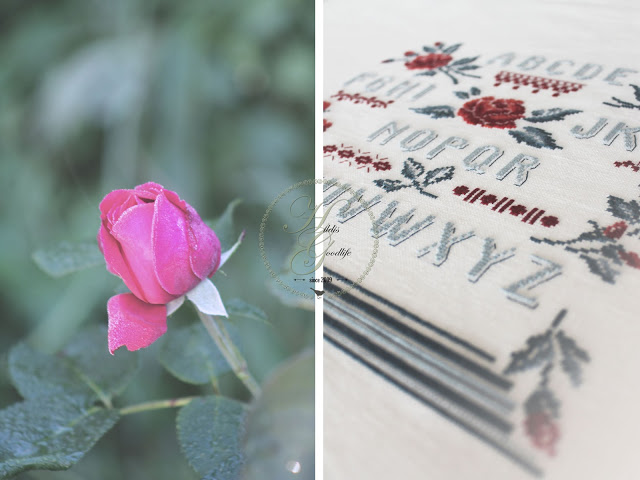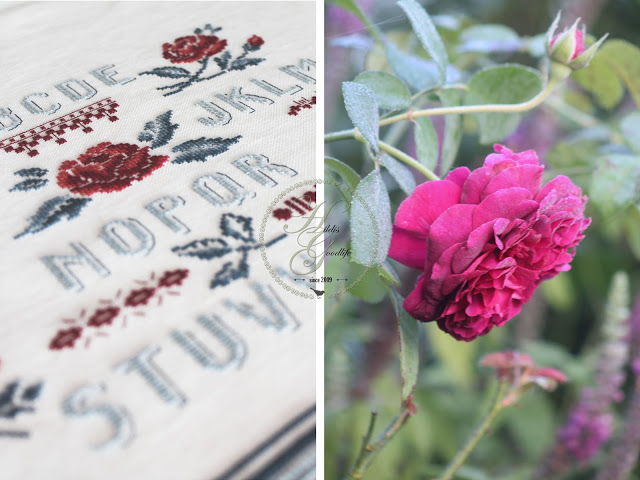 Es mag der einen oder dem anderen unter euch eigenartig vorgekommen sein, in welcher Farbwelt ich mich in den letzten Posts bewegt habe.
Üppiges dunkles Rot in einen Topf geworfen mit Blau und Schwarz und auch ein wenig Purpur.
Eine Farbkombination, die man bei mir nur selten sieht.
Schon gar nicht im Sommer.
Und dennoch mag ich diese Kombination aus dunklem Rot und Blau
– hauptsächlich und vor allem in einer Form:
In den Rosenmotiven der Fayencen von Digoin & Sarreguemines.
Have you been surprised about the color-scheme I choose for my rose-series this year?
Totally unusual for me, isn't it?
Dark red, blue, black and some touches of purple too.
Although I do not often work with these colors (and I hardly can imagine to live with the colors of my last post for longer than one hot and wonderful Summer evening)
I do love the combination of dark red and blue.
Particularly and especially when it is found on the wonderful antik rose motifs
of "Digoin & Sarreguemines" – the well-known French pottery.
An diesem Punkt meines Posts, nehme ich mir gleich das "vorläufig" zu Hilfe,
das ich im oberen Absatz unter Klammern vor das Wort Finale gesetzt habe,
denn es wird zu der antiken Keramik aus Frankreich irgendwann einen eigenen Post geben.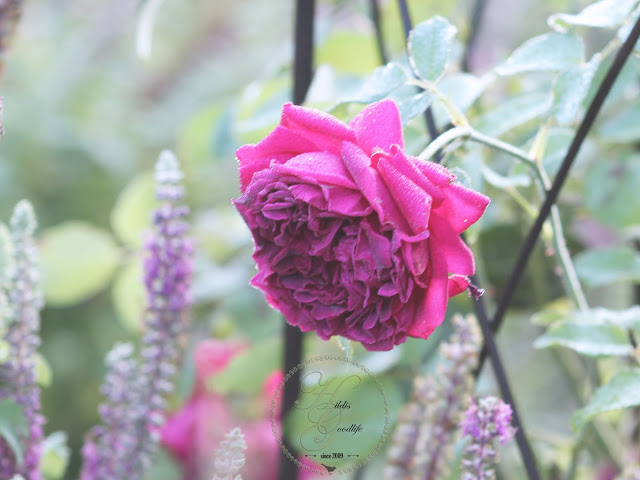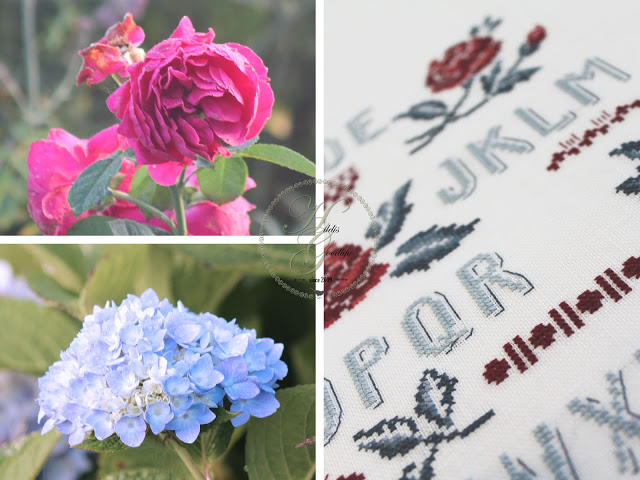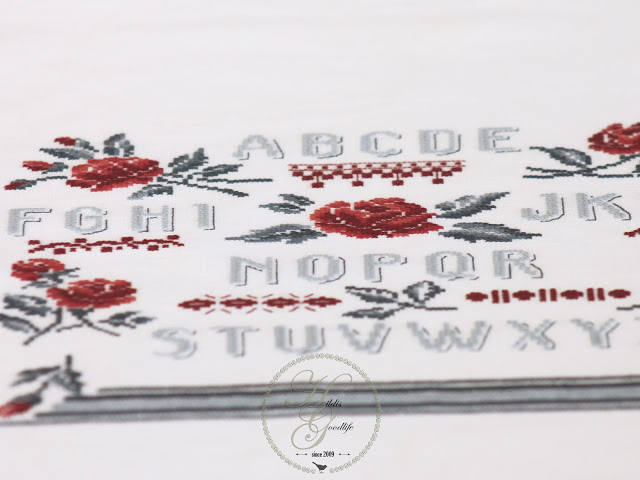 At this point of my todays post it's time to explain why my rose-series is coming to an end
today only "for now":
It is because I am planning another post – especially about this french antique pottery
and its amazing influence to the cross stitch world.
Yes, you are reading right, my dear stitching friends, another post about cross stitch
works is rising on the horizon. So please stay tuned 😉
Heute möchte ich einfach nur meine Rosenserie
mit einem gestickten Sampler ihrem Ende zuführen,
einem Sampler auf dem rote Rosen blaue Blätter tragen dürfen …
Mein erstes Stickwerk mit Motiven aus der Fayencemalerei von Digoin
und nicht mein letztes, soviel ist sicher.
Genauere Angaben zu diesem Sampler wird es dann in dem angekündigten
"Digoin"-Post geben, versprochen!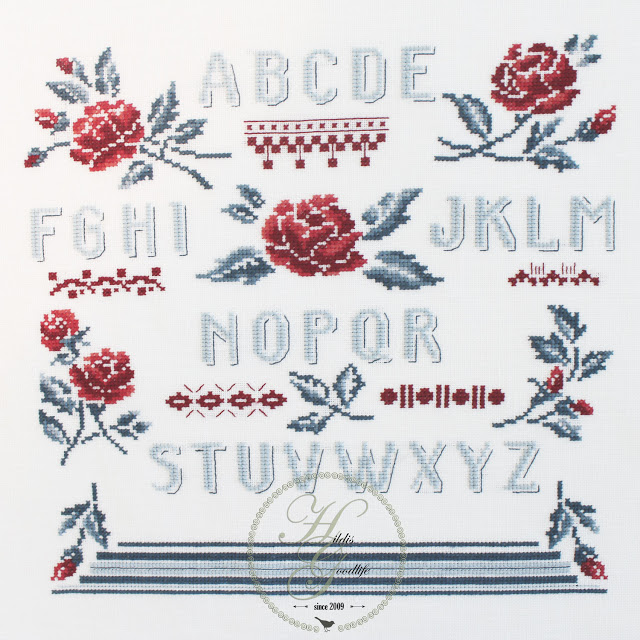 With this picture of my very first "Digoin"-stitching,
a sampler where dark-red roses are allowed to wear blue leaves
I am finalizing my rose series.
It was a pleasure, as always, to express my love of roses on this way
and to having you here. The best readers and blogging friends one can have.
You have been such an irreplaceable source of joy and motivation for me.
Thank you for that – and for all of your wonderful comments too.
Hope you are coming back here to my next post in September,
when I will be back with some first touches of fall, maybe!
Enjoy these last days of August.
And to all the people in the Houston area I am sending all my compassionate thoughts!
Hugs
Hilda
Meine lieben Freunde, es war mir, wie immer, ein Vergnügen,
eine kleine Serie von Posts zusammen zu stellen – für euch!
Und ihr ward, wie immer, eine wunderbare und freundliche Leserschaft
und eine unersetzliche Quelle der Motivation – für mich!
Dafür und für eure wundervollen Kommentare möchte ich euch gerne
Rosenblüten auf eure Wege streuen und euch von Herzen danken!
Lasst diesen herrlichen Sommermonat angenehm und entspannt ausklingen
und wenn wir uns hier wiedersehen, ist es bereits September … und herbstlich wohl auch!
Bis bald und alles Liebe
Hilda