Hallo meine Lieben,
da bin ich schon wieder.
Hello, my dear friends,
here I am again – and today with a really really quick DIY:
Heute mit einem ganz kurzen Post
und einem ganz schnellen DIY: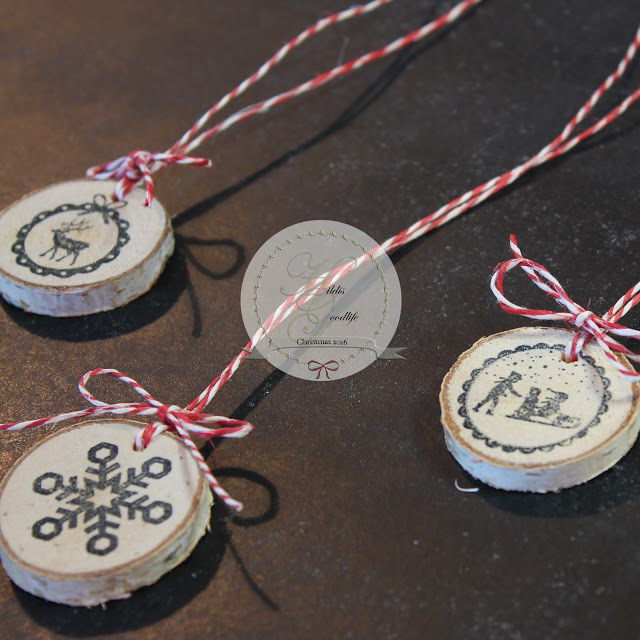 Holzscheiben-Christbaumanhänger
Stamped Woodslice-Ornaments
Believe me, there is no Christmas Ornament I know, that takes less time, than these little pieces.
You need:
– small wood slices
– a drill for making a little hole into each slice
– stamps
– stamping color
– twine
Diese Holzscheiben gibt es – gottseidank – seit ein paar Jahren wirklich überall.
Und in den unterschiedlichsten Größen.
Einen erklecklichen Vorrat davon hab ich immer da,
denn diese kleinen Holzteile sind so vielfältig verwendbar.
Heute zeig ich euch die allerschnellste Art,
daraus hübsche Christbaumanhänger zu basteln.
Ihr braucht dazu
– Holzscheiben
(- einen kleinen Bohrer um ein Loch hinein zu bohren)
– Weihnachtsstempel
-Stempelfarbe
– Bindefaden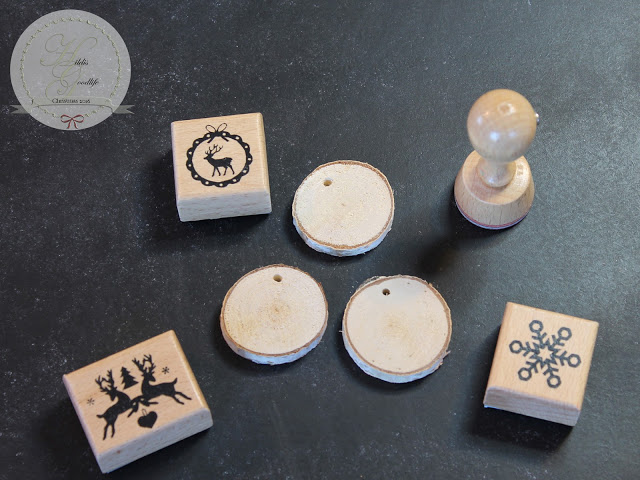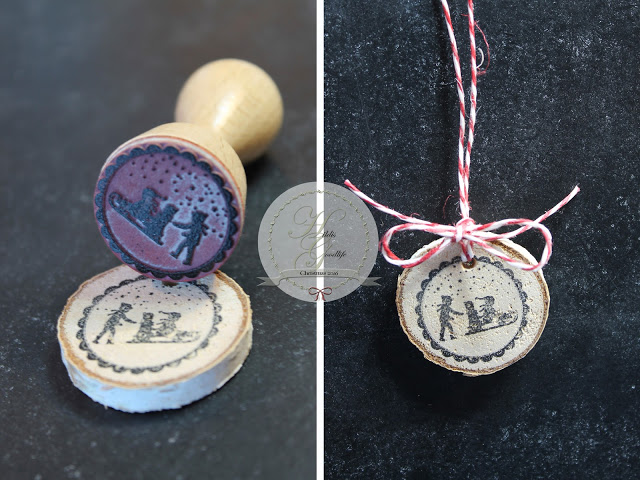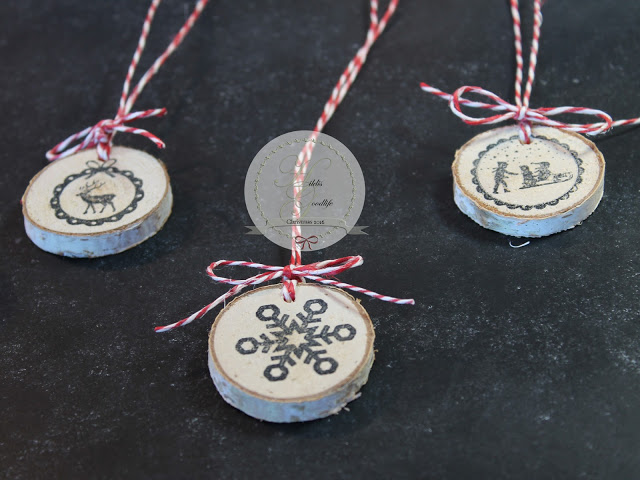 Ich habe mit ganz normaler Stempelfarbe gestempelt.
Falls eine Holzscheibe mal sehr rauh war, hab ich sie vorher ein wenig mit Schleifpapier bearbeitet.
Das kleine Loch könnt ihr vorher oder nachher bohren – wenn ihr es nach dem Stempeln macht, braucht ihr beim Stempeln nicht darauf zu achten, dass das Motiv richtig liegt – erst beim Bohren.
Und falls ihr keine Stempel im Haus habt:
Ein schwarzer Fineliner und ein bisschen zeichnerisches Talent reichen auch.
Well, I think i does not need to explain anything, does it?
If you don't have stamps with Christmas motifs at home, no matter:
A sharpie a little bit talent for drawing is enough.
Ich mag diese kleinen Anhänger und hab gleich mal einige davon gemacht.
Vielleicht nütze ich die heuer auch als Paketanhänger …. wer weiß?
Vorne bestempelt, hinten beschriftet …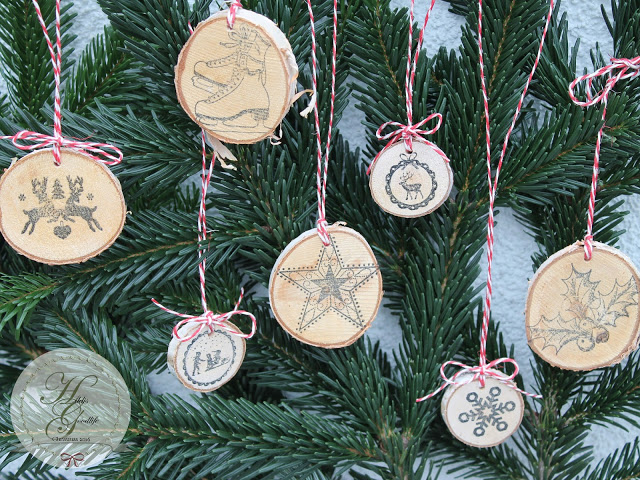 And that's it for today, my dear friends.
Tomorrow is a Holiday here in Austria
and I host my family on the weekend for our annual St. Nick's Dinner,
but I will be back with more ideas for handmade Christmas Ornaments not later than Monday!
Have a wonderful time – and thanks for stopping by!
Hugs
Hilda
Das war's auch schon wieder für heute.
Ich wünsche allen, die morgen einen Feiertag begehen dürfen einen schönen Tag (und vielleicht sogar ein langes Wochenende)
Ich komme spätestens am Montag wieder mit meinem nächsten DIY
Bis bald
Hilda