Obwohl ich mich in meinem Haus und Garten
lieber mit Blumen und Dekorationen in eher zurückhaltenden eleganteren Farben umgebe,
scheint das kleine Bauernmädchen von damals tief in meinem Inneren immer noch da zu sein.
Und jedes Jahr, wenn der rote Klatschmohn in den Wiesen und Feldrändern
anfängt zu blühen, bricht es aus mir heraus
und möchte am liebsten händeklatschend durch die Wiesen laufen und hüpfen,
vollends glücklich, dass endlich Sommer ist.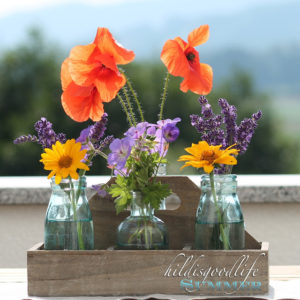 Although I love to decorate my home and my garden
with more temperate and distinguished colored flowers
deep in my hard I still seem to be a little farm girl
that gets happy when all that red poppies start to bloom.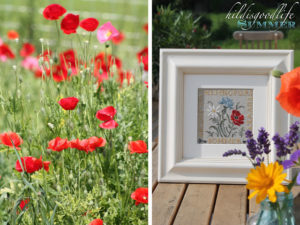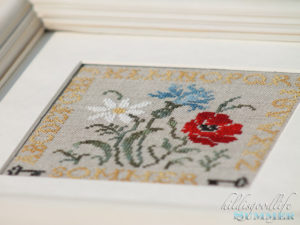 Kein Wunder also, dass ich mich in diese Stickvorlage sofort verliebt habe,
als Danny88 sie letzten Sommer raus gegeben hat.
Ich habe sie gesehen,
ich habe sie gekauft
und sie sofort gestickt.
And therefore I immediately fell in love with this little design of
Danny88, which she already published last year.
I saw it, I bought it and I stitched it right away.
After it layed in my drawer for one year I pulled it out yesterday
when I found out, that this little stitching
fits perfectly into a frame I had in my stash since years.
The flowering poppies everywhere in our garden
made the perfect background to display it as a little fairwell to June.
Aber erst gestern hab ich es aus meinem Schrank hervor geholt,
denn der rote Mohn blüht inzwischen wieder üppig auf den Wiesen
und in unserem Garten und hat mich an diese Stickerei erinnert.
Ganz spontan hab ich dann noch einen Rahmen, von dem ich schon seit Jahren
drei Stück besitze aus meinem Vorrat gezogen
und siehe da:
Er passte perfekt!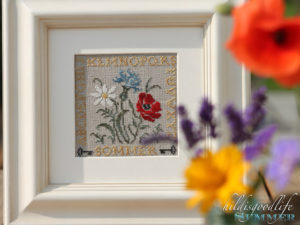 Design: Dany88 2014
stitched on 32 ct Belfast natural linen
with WDW Whisky; GAST Onyx, Buckeye Scarlett, Otter Creek, Blue Jay; DMC White
Und so kann ich heute,
diese kleine Stickerei gemeinsam mit dem knitsch-knatsch knallroten Klatschmohn
als kleinen blumigen Abschiedsgruß für den Juni präsentieren.
Although we had another weeks of rain here
our garden does not care at all.
It is blooming and flowering lavishlyin all our garden borders.
Finally hot summer days are predicted for the first week of July!
So probably you will find me at the pool the next days,
reading,
stitching
and enjoying the Summer heat under a big shady umbrella.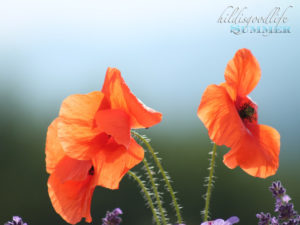 Nicht nur die Blüte des knallroten Klatschmohns versetzt mich in glückliche Stimmung,
nein auch die Wettervorhersage für die ersten Julitage.
Es wird endlich sommerlich
sonnig und heiß.
Und so wird man mich wohl das nächste Wochenende
unter einem großen Sonnenschirm an unserem Pool finden,
lesend oder stickend
und hoffend,
dass das Wetter anhält.
Mein Sommerurlaub steht bevor und damit endlich viele Tage
voller Entspannung und Nichtstun …
oder vielmehr "Nur-das-tun-was-Spaß-macht"!
Meine lieben Freunde und Leser,
ich danke euch von Herzen dafür, dass ihr mich durch diese verregnete Zeit
so liebevoll begleitet habt.
Habt einen schönen Monatsbeginn
und bis bald
Hilda
Thank you my dear friends and readers
for your wonderful support through this rainy time!
I really appreciated your comments and mails!
My Summer vacation is up to come
and I am so much looking forward to having all the time
doing the things I love!
Have a wonderful start into July!
Hugs
Hilda