Liebe Freunde und Blogleser,
ich wünsche euch allen heute
einen wunderschönen Valentinstag!
Denkt an die Menschen, die ihr liebt,
an die Freunde
die Familie
die Liebsten
und lasst ihnen einen lieben herzlichen Gruß zukommen.
My dear friends and readers
I send some flowery heartwarming Valentine greetings your way.
Have a wonderful cheerful and happy Valentine's Day!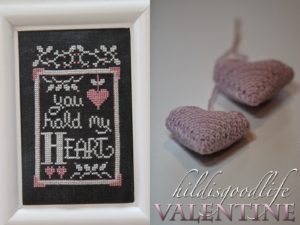 Mit dieser entzückenden Serie "A Year in Chalk"
hat mir die Designerin direkt ins Herz geblickt.
Ich LIEBE Kreidetafel-Kunst seit Jahren.
Die Serie ist ganz neu
die ersten zwei Monate sind erst vor ein paar Wochen rausgebracht worden.
I was immediately taken by the new series of Hands on Design
"A year in chalk"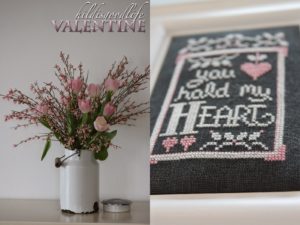 Was ich eigentlich für den heurigen Valentinstag gestickt habe
(weil ich nicht dachte, dass ich die Vorlage von "You hold my heart"
rechtzeitig bekomme)
und welche Dauerstickerei mich derzeit noch beschäftigt, zeige ich euch in wenigen Tagen.
Which design I literally stitched for this year's Valentine's day
(because I did not think, I would get the chart for "You hold my heart"
early enough)
and which wonderful SAL will keep my Sundays busy this year
I will show to you in a few days.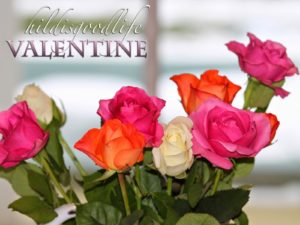 Für heute belasse ich es bei einem herzlichen bunten Gruß
an euch alle,
meine liebe Freunde und Leser!
Hugs
and heartful greetings
Hilda