these yearning eyes are following me
everywhere I go
until I say the magical words:
"Come on, Ginger, let's go"
Jeden Morgen …
jeden Tag …
egal ob es regnet oder schneit
oder die Sonne bereits vom Himmel brennt,
verfolgen mich diese sehnsuchtsvollen Augen
auf Schritt und Tritt!
Und zwar so lange, bis ich endlich die Zauberworte sage:
"Kumm Ginger, gemma!"
Dann rennt sie los, den Hügel hinunter
und wartet geduldig an der Gartentür.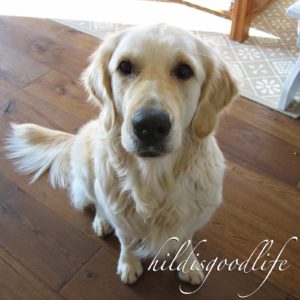 The world outside our gardendoors
is an amazing and an adventursome one!
There are so many hares and deers to hunt (OH NO! GINGER STOPP!)
and mice to dig for (OH NO! GINGER STOPP!)
and sometimes dragons to fight
(or at least to bark at …)
Meadows, streams and groves ….
Denn außerhalb unseres Gartenzauns
wartet auf Ginger eine wunderbare abenteuerliche Welt.
Mit Rehen und Hasen, die man (NEIN! HALT!) jagen kann
und Mäusen nach denen man (NEIN!) buddeln darf
und manchmal sogar mit gefährlichen Flugdrachen,
die man bekämpfen (auf jeden Fall aber lautstark verbellen) muss.
Wasser, Wiesen und kleine Wäldchen …. aber seht selbst: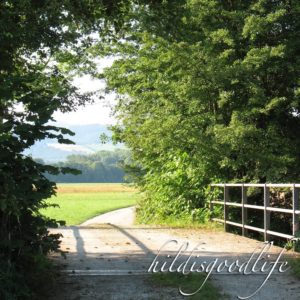 Over the bridge crossing the Krems-river
which is just a tired little rivuelt at this time.
Über die Brücke
unter der momentan ein zahmes Rinnsal
eines oftmals tosenden Flusses rinnt.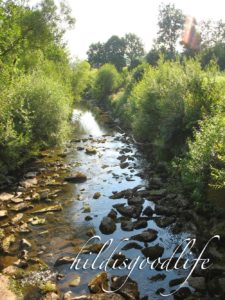 Den Weg am Kornfeld entlang in dem sich
ganze Hasenfamilien verstecken …
Along the cornfield where all the hares of the whole county seems to live in …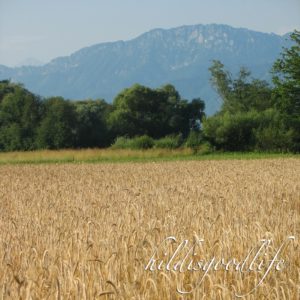 Mit stets wachsamen Auge auf den Flugdrachen,
der gefährlich über dem Maisfeld schwebt …
Having a watchful eye on the bad bad dragon that is following us …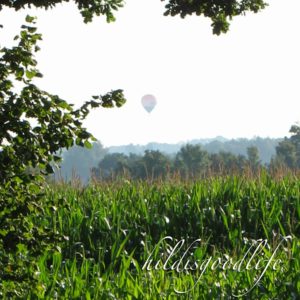 … bis wir schließlich am Badeplatz ankommen
wo erstmal ausgiebig im Wasser geplantscht und geschwommen wird …
… until we finally arrive at a nice little place on the river
with deeper water, where Ginger can have a bath
and swim for her little ball many many many times …
… and when she is tired bathing in water …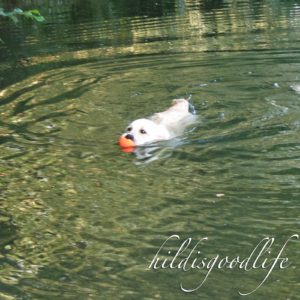 … danach noch ein lustiges "Bad" im frischen würzig duftenden Heu!
… she takes a bath in the fresh and wonderful scenting hay on one of the meadows around!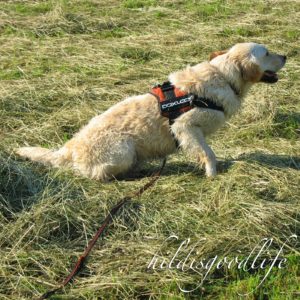 Und schließlich, müde, glücklich und hungrig, den ganzen Weg wieder zurück nach Hause,
wo uns beide schon ein leckeres Frühstück erwartet.
And then – tired, happy and hungry – walking back home,
where a wonderful breakfast is still waiting for both of us.
Isn't this a wonderful way to begin a day?
Ein Tag der so beginnt, kann doch nur schön werden, oder?
Mittlerweile haben wir beide unser Frühstück längst verdaut
und es wird Zeit für Frauchens erstes Bad im kühlen blauen Nass …
… und für Hundis erstes Schläfchen im kühlen Schatten …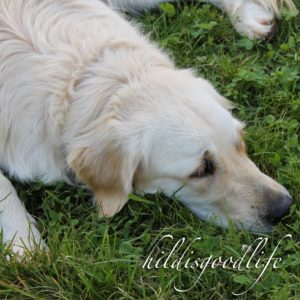 In the meanwhile morning's almost over
the sun is standing high
and it is time
for my first jump into the refreshing cool water
and for Gingers first nap in the shadow.
Have a wonderful sunny Friday, my dear friends
and a joyful and relaxing weekend.
Hugs
Hilda
Ich wünsche euch einen herrlich schönen sonnige Sommerfreitag!
Freut euch auf das kommende Wochenende
und lasst es euch so richtig gut gehen!
Bis bald
Eure Hilda