Although it's looking like,
smelling like
and sounding like SUMMER
here everywhere,
it is still spring.
Last chance to show you
one last spring finish.
Obwohl es überall hier bei uns
bereits nach Sommer riecht,
nach Sommer aussieht
und sich nach Sommer anhört,
ist immer noch Frühling laut Kalender …
… die letzte Chance also
euch eine letzte Frühlingsstickerei zu zeigen.
"Curious Little Bunny Sampler"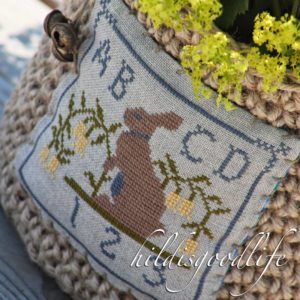 This one is a special finish of mine,
because it is my first "Murgida".
Who of you does not know the wonderful blog of Teresa Murgida
"Crocettando fra le Pesti".
Teresa and I are blogging friends since – I really do not since when,
but I think since we both started blogging.
Es ist besonderes Werk – denn es ist mein erster "Murgida.
Wer von euch kennt nicht den Blog von Teresa Murgida
"Crocettando fra le Pesti".
Teresa und ich sind Bloggerfreunde seit …. na ich glaube,
bereits seitdem wir angefangen haben zu bloggen.
Wir haben in so vielen Dingen den gleichen Geschmack.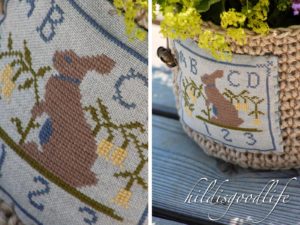 Some time ago Teresa started creating little cross stitch charts.
Sweet and simple and in the primitive style that I like so much.
And yet I haven't it managed to stitch one of her wonderful designs ….
… until some weeks ago.
Vor einiger Zeit begann Teresa damit kleine Kreuzstichvorlagen zu designen.
Süße, einfache Motive in dem primitiven Stil, den ich so mag.
Und dennoch hab ich es nie geschafft eines ihrer Designs zu sticken,
bis vor kurzem.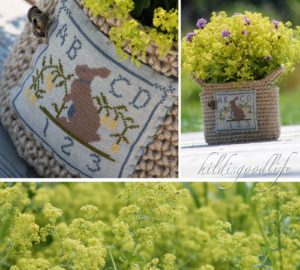 hen I saw this sweet little bunny design
I was in love with it at first sight.
Already in early spring I stitched this cute bunny.
And right from the beginning I had the idea
how I want to finish this little sampler
into a basket …
Als ich diesen kleinen Sampler sah, hab ich mich sofort in ihn verliebt.
Gestickt hab ich ihn bereits vor Wochen (er war schon zu Ostern fertig gestickt)
und auch die Idee, wie ich diesen kleinen Sampler verarbeiten werde,
hab ich gleich von Anfang an gehabt – nur die Fertigstellung selber hat
dann einfach ein wenig gedauert.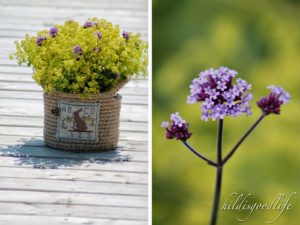 It took me some time to finish it,
but now it's done.
And I love my new spring basket – now filled with summer flowers
but in springtime I can also use it for easter eggs
or some other stuff.
Aber nun ist das Werk vollbracht:
Ich hab ein Körbchen aus Sisal gehäkelt,
das Motiv zu einem kleinen, sehr flachen Kissen genäht
und dann – im primitiven Stil – auf das Körbchen genäht.
Noch ein bisschen aufgehübscht mit rostigen Schellen
und schon ist das Frühlingskörbchen fertig.
Jetzt verwende ich es gerade als Blumenkörbchen,
doch im Frühling werde ich es mit etwas Heu füllen und dann Ostereier rein legen.
Nun aber
freue ich mich auf den tatsächlichen Beginn des Sommers
und hab auch schon einige Projekte dafür an der Nadel …
Now I can work on my summer projects – I do have so many ideas already!
Have a nice rest of the week!
Hugs!
Bis bald
Eure Hilda