Mit viel Sonnenschein,
strahlend blauem Himmel
und herrlich heißen Tagen
hat der Sommer hier Einzug gehalten.
Summer has arrived here
with much sun, blue skies and very hot temperature
and caused an exuberant rose blossom.
Und mit ihm eine überschwängliche Rosenblüte.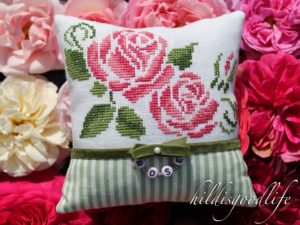 Meine Rosen,
die in den letzten zwölf Monaten alle mindestens zweimal
umgepflanzt worden sind – das erste Mal bei ähnlich großer Hitze, wie die der letzten Tage
scheinen diese Strapazen fast alle gut weg gesteckt zu haben.
All of the roses, that growed and bloomed in my old rose garden
has been moved to our new place in July 2013 (a very hot July – as hot as the last days)
And now – after all the hardships – about a half of them are in full bloom!
I have planted them in my new rose border
close to the big patio/terrace of our new house.
Mein neues Rosenbeet, das erste seiner Art im neuen Garten,
erinnert schon jetzt an die Pracht
des alten Rosengartens!
Direkt an die Terrasse gepflanzt,
mit den Duftrosen an vorderster Front,
ist es mein erstes Ziel jeden Morgen.
Noch im Pyjama und mit der Kaffeetasse in der Hand,
und meist barfuß
beginne ich hier jeden Tag auf die herrlichste Weise.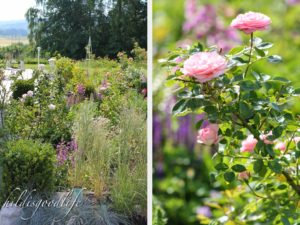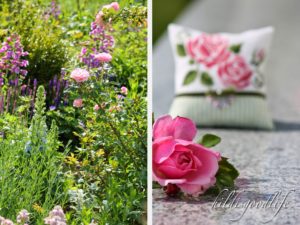 My "new rose garden" is the perfect background for a stitching
that I already finished back in 2012 – and never had shown here in my blog.
Aus lauter Freude über die herrliche "erste" Rosenblüte im neuen Garten,
habe ich eine Stickerei hervorgekramt, die ich euch bisher noch nicht gezeigt habe:
Ein Rosenkissen, das ich bereits 2012 gestickt und genäht habe.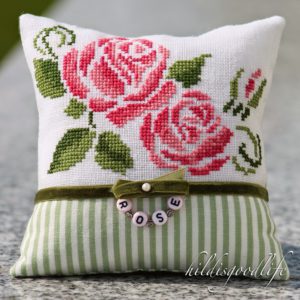 "Rosenblüten", Freebie by StickfeeDesign
Linen: Zweigart Belfast white
stitched with DMC as charted
(unfortunately I can not post a link to this wonderful freebie)
Das sind die Rosen
die derzeit in meinem Garten blühen.
Alle Rosen meines alten Rosengartens haben wir
im heißen Juli 2013 in den neuen Garten übersiedelt.
Gemeinsam mit etwa 30 großen Sträuchern
und hunderten Stauden.
At one glance: All (nearly all) roses that bloom in my garden right now: