Es hat kräftig geschneit
hier im österreichischen Alpenvorland!
Dicke flauschige Hauben aus Schnee
bedecken jeden Ast und jedes Blatt
und jedes Teil in unserem Garten.
Wenn man nicht gerade sein Auto frei schaufeln muss
um sich damit durch schlecht geräumte Straßen zu quälen
ist dieses Wetter Spaß pur!
Skilaufen
Schlittenfahren
wilde Schneeballschlachten …
… so macht besonders den Kindern der viele Schnee Spaß!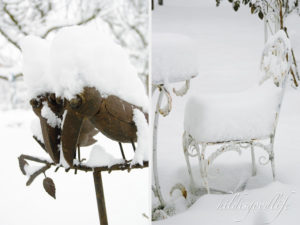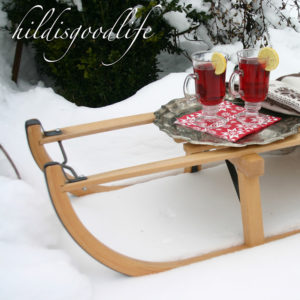 Meine Wintervergnügen bestehen eher aus stillen entspannenden Spaziergängen
durch die weiße Pracht.
Und danach eine schöne heiße Tasse Tee …
Very much snow here in Upper Austria!
Best conditions for all kinds of Winter fun.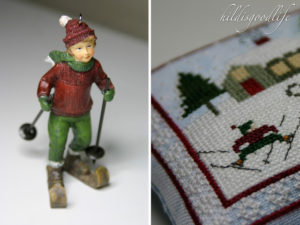 … und eine feine Stickarbeit.
Natürlich bevorzugt mit Wintermotiven, die ich
sodann für meinen Cubby zu kleinen Ornamenten verarbeite
My favorite Winter fun is stitching tiny little snow motivs
and finishing them to ornaments for my cubby.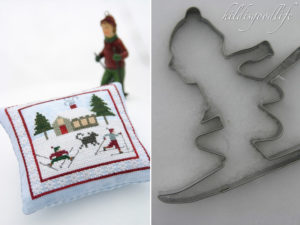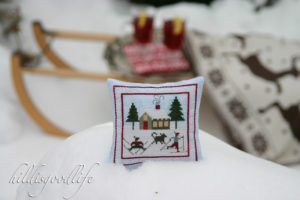 Part of"Winter Welcome"; The Drawn Thread
Stitched on Belfast Vintage Iceblue with DMC Threads as charted
and Crescent Colours "Cubid" and Weeks Dye Works "Juniper"
Noch eine genießt den herrlichen Schnee in vollsten Zügen:
Ginger!
Sie ist kaum ins Haus zu bringen, wenn sie draußen ist
und liebt nichts mehr, als im Schnee rumzutoben,
darin rumzugraben und allerlei Schabernak zu treiben.
The one of us who loves the snow most is our sweet puppy Ginger!
There is nothing more wonderful to her than robing and digging
and bouncing.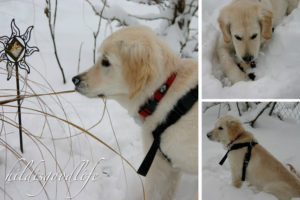 Ich wünsche euch eine schöne neue Januarwoche
mit viel Schnee und auch mal ein paar Tage Sonne dazu!
A wonderful new Winter week with snow and sun
and really much fun!
Bis bald
Eure
Hilda