Lizzie Kate: Sampling Easter;
Light Coffee Belfast Linen,
Threads as charted – except: GAST "Cornflower" for Alphabet!
Das war Ostern 2012:
Eiersuche am Ostersonntag
in Gummistiefel und Anorak!
Die 110 versteckten bunten Eier
waren rasch gefunden,
weil die weiße Schneedecke
ihnen keine Tarnung bot.
Die Kinder aber hatten trotzdem ihren Spaß.
Dann am Nachmittag bahnten sich zaghaft
ein paar Sonnenstrahlen ihren Weg
durch die dicke Wolkendecke.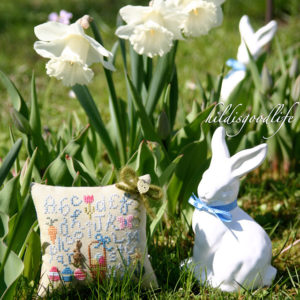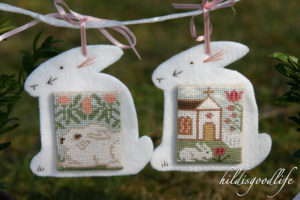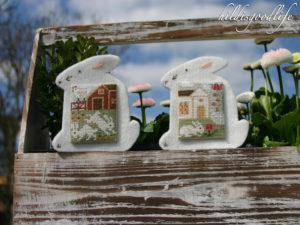 The Prairie Schooler "Bunnies & Chicks";
Belfast Linen "Light Coffee";
DMC-Threads as charted
Two for presents
two for me!
Am Ostermontag dann
ein strahlend sonniger,
wenn auch kühler Tag!
Eine kleine Entschädigung
für den wettermäßig völlig entgleisten
Ostersonntag.
Der pefekte Tag,
um meine Oster-Stickereien zu fotografieren.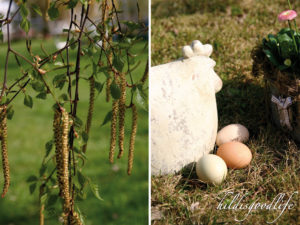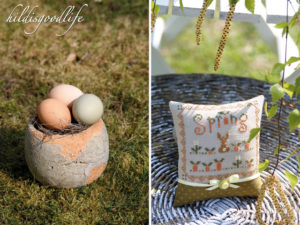 Cosmic Handmade by Caroline Hofstede: Easter Freebie 2009
Belfast Linen "Summer Khaki"
DMC-Threads as charted
EASTER MEMORIES 2012:
Egg hunt in the snow
on a cold Easter Sunday morning.
110 hidden Eastereggs were easily found
in the white snow.
But our guests and their children had fun!
Only one day later: Sunny Easter monday
with blue skys!
The perfect day to take photographs!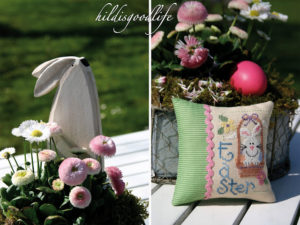 oben/above: Lizzie Kate "Flip-It Easter", Light Moccha Belfast Linen, Threads as charted
unten/down: The Trilogy "Happy Bunny Bunny Day"; Summer Khaki Belfast Linen, Threads as charted
I hope you all had a wonderful
Easter Weekend!
Alles in allem
war es ein schönes, gelungenes, fröhliches Osterfest!
Mit sonnigen Frühlingsgrüßen
Hilda