Fertig gestickt und gerahmt:
"Monthly Sampler: June"!
Finished and framed:
"Monthly Sampler: June"!
Dieses Bild zu sticken hat mir
so viel Freude bereitet,
auch wenn ich meine anderen Projekte
vernachlässigen musste,
um dieses Bild einzuschieben!
I enjoyed so much stitching this lovely design
even though I had to neglect all my other projects.
All my other projects?
No not all of them:
I did stitch the June-House
of my calender-WIP from maryse!
Meine Monatshäuschen hab ich allerdings
nicht vernachlässigt.
Das Juni-Häuschen wäre eigentlich
pünktlich zum 1. Juni fertig gewesen ….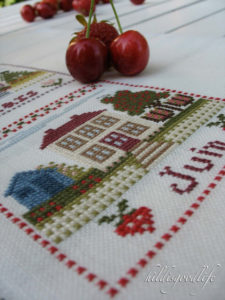 … jetzt wird schon bald am Juli gestickt.
Wie die Zeit vergeht ……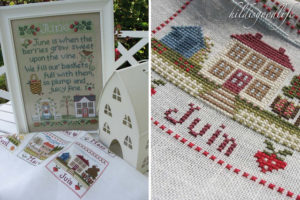 … kann man an diesem gestickten Kalender
ganz wunderbar verfolgen:
Er ist nun zur Hälfte bestickt!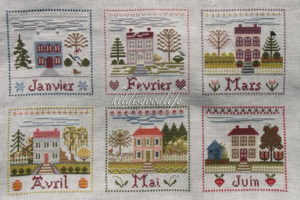 How time flies …. now there are already six months
on my calendar!
Ich wünsche euch allen noch eine schöne zweite Juni-Hälfte!
Bis bald
Eure Hilda