It's almost done
the Merry Month of May!
And it wasn't even very merry,
it's been more the rainy month of May.
Nun ist er fast vorbei
der "Wonnemonat Mai"
Und wahrlich wonnig war er auch nicht.
Verregnet und kalt und mit ganz wenigen Sonnentagen
so hat sich der Mai in unseren Breiten präsentiert.
Nach einem winterlichen März
und einem immer noch verschneiten April
kam dieser kalte nasse Mai wirklich gut …
… und hat nicht gerade dazu bei getragen, dass sich meine Laune bessert.
After a wintery month of March
and a snowy month of April
this cold and dark and rainy 5th month of the year
did not help very much lightening up my battered soul.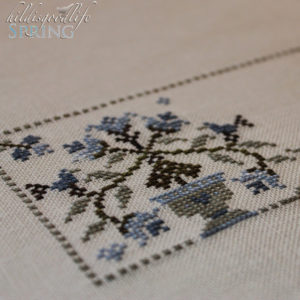 Aber
ich lerne mit schlechtem Wetter zu leben.
Vielleicht ist das ja etwas, das ich in meinem Leben noch lernen muss:
Postiv denken selbst nach dem ungefähr hundersten Regentag in diesem Jahr.
Mich auf jedes Wochenende freuen auch wenn spätestens Freitag mittag neuerlich der Regen einsetzt.
Und Montags drauf mit einem fröhlichen Liedchen auf die Lippen ins Büro zu fahren,
wo Unmengen Arbeit auf mich wartet und nach einem verregneten Wochenende
endlich wieder die Sonne scheint.
But
I am getting experienced in living with bad weather.
Maybe that is one of the things in my life I had to learn most.
Thinking good thoughts even when there is the 100th day of rain
this year outside my window.
Bringing myself in a positive mood even when the weather gets uglier and uglier
the nearer the weekend comes
and driving down to the city every Monday with a cheerful song on my lips awaiting another week full of work (indoor of course)
when – after a cold and rainy weekend – finally the sun is shining …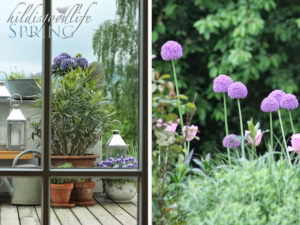 Oh yes I am really learning all this!
Learning it hard,
really really really hard …
I am learning and training myself
in working in the garden while it is raining.
Who does need sunshine or blue skys
while cutting tulips which have faded ways to quickly because of the wind and the rain
or collecting snails which by the way thrive superbly under these conditions.
And I am training hard to be a little bit more like my plants.
They do not give a damn about the weather and grow and green
and fill all my borders in such a wonderful way
that I even can forget the rain for a while when I look at them.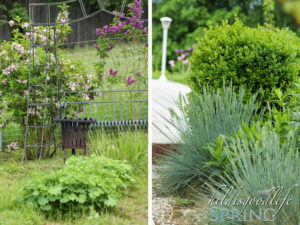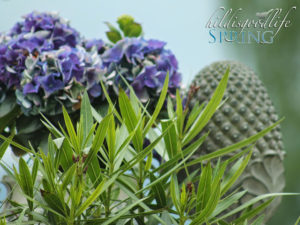 Against all odds the roses seem to bloom earlier this year,
the first rosebuds are already open …. and smell quite outstanding.
Vielleicht sollte ich einfach nur lernen,
ein bisschen mehr so zu sein, wie die Pflanzen in meinem Garten:
Die scheren sich einen feuchten Kehrricht um das Wetter
gedeihen und wachsen und füllen meine Beete mit strotzendem Grün.
Die Rosen stehen da übersät mit dicken Knospen
und die ersten haben sich bereits geöffnet
viel früher als erwartet …
Vielleicht ist es überraschenderweise das, was ich unbedingt noch lernen muss:
Meinen Tag zu genießen, mein schönes Leben zu leben
ohne mich negativ beeinflussen zu lassen von Umständen,
die ich sowieso nicht ändern kann.
Denn irgendwie dachte ich, ich könnte das schon alles …
Maybe this is what I should learn most:
Enjoying my days, living my life, doing the things I love to
without letting me be badly influenced by circumstances I can not change.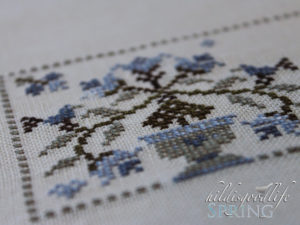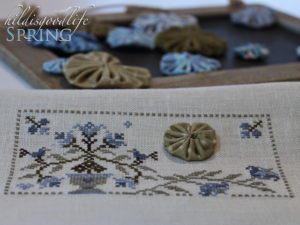 Meine lieben Freunde und Leser!
Es wird euch unschwer aufgefallen sein, dass die schlechte Laune,
die sich seit ein paar Monaten meiner bemächtigt hat
immer noch nicht vollständig verflogen ist.
Und gemeinsam mit sehr viel Arbeit
und vielen privaten Terminen
hält sie mich vom Bloggen fern.
Viel länger, als mir lieb ist ….
Doch ich hoffe und träume und warte …
auf bessere Tage
auf sonnigere, wärmere, entspannendere Zeiten …
… auf den Juni vielleicht ….
My dear readers and friends,
as you easily will recognize I am not over it yet.
Not over this mood that paralyzes me a little.
Together with very much work
and many private appointments
it keeps me away from blogging more than I would like.
But I am still hoping and dreaming and waiting
of better days to come!
Sunny, warm and relaxing days.
Maybe in June ….
Hugs
Hilda