Uhrmacher müsste man sein!
Dann könnte man vielleicht das Tempo der Zeit
ein wenig beeinflussen.
Sometimes I wish I would be a watchmaker!
Then I could influence how fast time flies!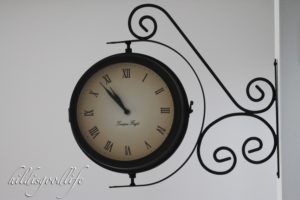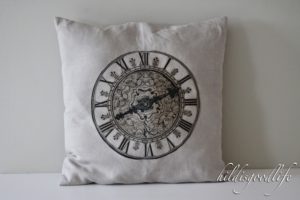 Die Uhr in meinem Badezimmer würde dann
schneller laufen – denn ich neige dazu im Badezimmer
immer viel zu viel Zeit zu vertrödeln.
The clock in my bathroom for instance
should go a little bit quicker.
I tend to dawdle too much, when I am in there …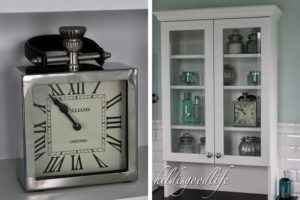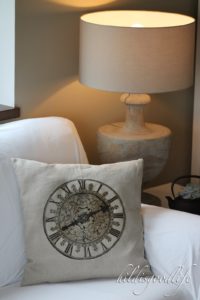 Die Uhr in meinem Werkraum hingegen
würde ganz ganz langsam gehen,
denn für Nähen und Sticken und Häkeln
bräuchte ich viel mehr Zeit …
The clock in my craft room, however,
should go much slower!
There is never enough time for sewing and stitching
and being creative!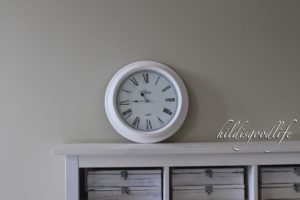 Die Uhr in unserer Essküche würde stillstehen,
wenn liebe Gäste da sind
und schneller laufen,
wenn wir gerade am Kochen sind
(damit das Essen rascher auf den Tisch kommt …)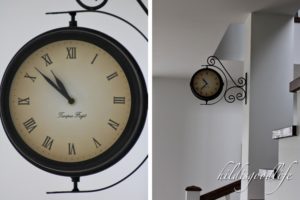 Und das Uhrkissen auf meinem Sofa
würde natürlich stehen,
denn wenn ich mein Haupt darauf bette
und entspanne,
sollte Zeit keine Rolle spielen.
And the clock on my sofa-pillow
should stand completely still
because, when I lay down on it and relax
time should not play any role anymore.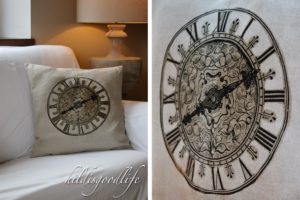 Unfortunately
I am no watchmaker!
And I can not infulence at all how the clocks in my house tick.
But the clock-pillow for my sofa
I planned to make for almost one year.
Yesterday was the day
I finally did it.
Prepared some linen
printed out the motiv on printable transparency
cutted out numbers and outerlining
and ironed on the linen!
Doesn't it turn out beautifully?
I really love it!
Nun,
leider bin ich keine Uhrmacherin!
Und kann nicht beeinflussen, wie die Uhren in meinem Haus ticken!
Doch das Uhr-Kissen für mein Sofa,
das wollte ich schon seit über einem Jahr machen.
Gestern nun hab ich mich endlich daran gesetzt.
Leinen zugeschnitten
das Motiv auf Photoshop bearbeitet
und im Transferdruck auf das Leinen gedruckt
und dann genäht!
Ist es nicht wirklich hübsch geworden?
Das muss ich unbedingt öfter mal ausprobieren!
Meine Lieben,
die Zeit verrinnt viel zu schnell
doch eines merke ich immer wieder auf's Neue:
Zeit, die man damit verbringt
etwas Kreatives zu machen
bleibt wenigstens in Erinnerung!
Bis bald
Eure Hilda