with
BOSTON

"Die Wiege der Unabhängigkeit"
nennen die Bostonians ihre Stadt.
Und das nicht zu Unrecht,
denn die Geschichte der USA hatte hier ihren
ersten Akt:
Die Boston Teaparty,
die Unabhängigkeitserklärung
Freiheitskämpfer
und Unabhängigkeitskrieg,
alles hat hier in Boston statt gefunden
oder zumindest seinen Anfang genommen.
The "cradle of Liberty"!
This is how the Bostonians call their city.
For good reasons, because many of the revolutionary
activities started in this city in the 18th century.
Where ever you go or stay
you read and hear of famous American patriots:
Samuel Adams
Thomas Jeffersen
Paul Revere
….
Wo immer man geht oder steht,
begegnet man berühmten Namen aus der Geschichte der USA:
Samuel Admas – Anführer der Freiheitskämpfer
Thomas Jeffersen – 2. Präsident
Paul Revere – ein Held, der berühmt wurde
wegen seines waghalsigen Rittes durch die Nacht
(um die Führer des Freiheitskampfes
vor der Ankunft der Briten zu warnen)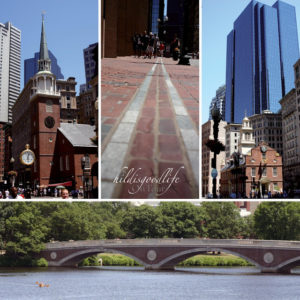 "Listen my children and you shall hear
Of the midnight ride of Paul Revere,
On the eighteenth of April, in Seventy-five;
Hardly a man is now alive
Who remembers that famous day and year…."
Mit diesen Worten beginnt der amerikanische Dichter
H. W. Longfellow sein episches Gedicht
über den Helden "Paul Revere".
Wir sind auf den Spuren seiner Geschichte und der,
der amerikansichen
Unabhängigkeit gewandelt
in Boston!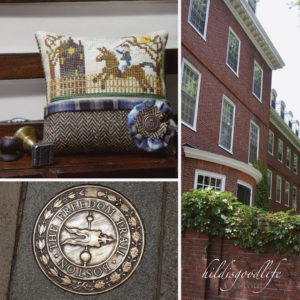 Obwohl sich mir persönlich der Name Samuel Adams
viel intensiver eingeprägt hat
(nicht zuletzt wegen des ausgesprochen erfrischenden Biers,
das seinen Namen trägt)
habe ich als Erinnerung an Boston
ein Motiv gefunden, dass an den Heldenritt
von Paul Revere erinnern soll!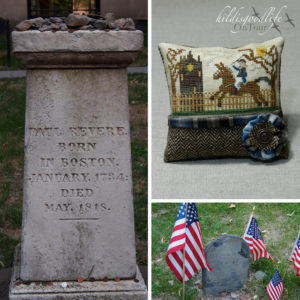 Although the name of Samuel Adams has become more memorable
to us (not least because of the delicious beer with the same name)
I stitched this wonderful design of Paul Revere's Midnight Ride
and finished it as a Ornament to remind me of the wonderful days
in Boston.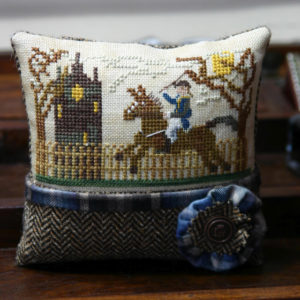 "The Regulars are coming"
Just Cross Stitch July/August 2012
Belfast Linen Vintage Mocha
DMC, GAST, WDW
Genauso rasend,
wie Paul Revere dereinst durch die Nacht galoppierte,
rast mir die Zeit davon!
Nun ist der August schon wieder vorbei
und bei uns herrschen gerade herbstliche Bedingungen;
Zeit um den Sommer hinter sich zu lassen.
Eigentlich hatte ich gehofft, meine Urlaubsberichte
und -erinnerungen bis Ende August fertig zu bringen,
doch das hab ich leider nicht geschafft.
Just as furious as once Paul Revere
galloped through the night
time races by!
Now the month of August is already gone
and Autumn is up to come.
I hoped that I will manage to
post all my travel-memories before the end of August
but unfortunately I did not make it.
I possibly will show one more post with photos
of the rest of our tour in September
but now I am eager to stitch and post
about other themes.
Vielleicht bringe ich im September noch einen Bilderbeitrag zu den USA
doch mich drängt es nun,
mich wieder anderen Themen zu zu wenden.
It was a great summer
but now
I really enjoy the start of Autumn.
Es war ein wunderschöner Sommer
aber nun freue ich mich auf den Herbstbeginn.
Bis bald
Hilda