Das Jahr ist kaum zu halten.
Nun ist auch die erste Hälfte des Augusts verstrichen.
Die Zeit rast nur so dahin
und lässt mich kaum zu Atem kommen.
The year is in a hurry – and still another month
is half gone!
Although August brought some warm and sunny days
you can feel that summer's end is near.
Der August schenkt uns noch ein paar sonnigere wärmere Tage
und lässt damit ein bisschen Sommerlaune aufkommen.
Sunny Gold and Dark Green are the colours
of August.
Not only in nature but also in the monthly cottage chart
of Maryse
Die Farben des August
sind Gold und dunkelgrün – eindeutig.
Sonnenblumenfelder stehen nun in voller Blüte.
In der Natur genauso
wie auf dem Monatshäuschen August von maryse: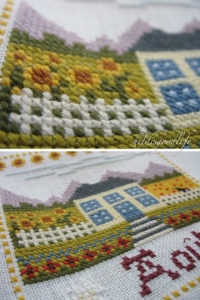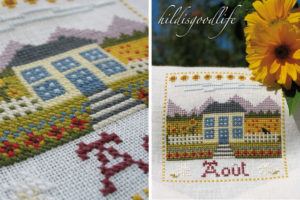 So gut ich kann,
genieße ich die letzten (und ach so wenigen)
warmen Sommertage – auch wenn meine freie Zeit
immer noch knapp ist.
In diesem Sinne
wünsche ich euch,
meine lieben Leser
noch einen schönen goldenen August
mit genügend Musestunden
um die letzten Wochen des Sommers
zu genießen!
A sunny and warm rest of August
to all my dear readers!
Enjoy the last weeks of Summer!